Pawlease help us celebrate Animal Welfare Week (October 5-11) and National Animal Shelter and Rescue Appreciation Week (November 2-8) with DOGHOUSE and the Gin & Tonic Mystery Series by L.A. Kornetsky!
Amateur sleuths Ginny Mallard and Teddy Tonica and their furry partners prove in L.A. Kornetsky's
DOGHOUSE
(PocketBooks; July 22, 2014; $7.99)
that twelve legs are better than four when it comes to solving a risky new case in the third novel from the "entertaining" (Library Journal) Gin & Tonic mystery series. At her favorite Seattle bar, professional concierge Ginny Mallard can always count on a perfectly mixed gimlet and a friendly welcome for her shar-pei, Georgie, from resident cat, Penny. On this visit, Ginny gets an unexpected bonus. One of the regulars asks her and her sometime partner, bartender Teddy Tonica, to save an old friend who's facing eviction. This is no simple landlord spat. Rumors abound of an underground dogfighting ring on the premises—a crime guaranteed to get Gin's hackles up. Gin and Teddy want to believe the old man is innocent of all charges, thought a new piece of evidence suggests otherwise. Penny and Georgie keep their noses to the ground as they help their humans investigate the vicious animal rights case. But the truth is buried deep, and digging it up will unearth dangerous complications for owners and animals alike.
Praise for the third Gin & Tonic Mystery, Doghouse:
"Infamously nosy Ginny Mallard may be unlicensed as an investigator, but she has begun to make a name for herself as the unofficial champion of the tongue-tied. In the third installment of L.A. Kornetsky's Gin & Tonic Mystery series,
Doghouse
finds Ginny getting herself tied up in a possible underground dogfighting ring. With help from her bartender friend Teddy Tonica, his tabby cat and Ginny's Shar Pei puppy, they have to figure out what's going on before someone else gets hurt."
—Cat Fancy Magazine, November 2014 issue
"Human and animal characters are equally appealing. A thoroughly enjoyable read."
I Love a Mystery
"
Doghouse
is a crafty mystery with engaging characters and countless unknowns…L.A. Kornetsky makes mysteries inventively delightful, and
Doghouse
entertains with wit and cleverness."
Single Titles
"I recommend it to those that really like animals and cozy mysteries." ~Books and Things
"The third Gin & Tonic "researchtigations" is an appealing anthropomorphist amateur sleuth enhanced by life in a cheerful neighborhood bar. The lead humans and their animal owners remain fresh leads while the case proves bloody in the ring and the bar."
The Mystery Gazette
"Sniffing out clues…L.A. Kornetsky brings back Ginny Mallard and her bartender friend Teddy Tonica, along with Ginny's pet shar-pei puppy and Teddy's tabby cat, for their third outing in
Doghouse
."
Library Journal
Praise for the second Gin & Tonic Mystery, Fixed:
"[Fixed] is the second foray into the lives of a very unlikely pair of investigators; unlikely and a whole lot of fun…Collared was the first title that introduced this extremely fun 'family and friends' grouping, and the author has come back with a sequel that will truly make Gin & Tonic a well-known duo! Very light-hearted, this is a great book. Any reader who likes the 'cozy' avenue will love this mystery, with a little bit of cat and dog language thrown in for fun."
Suspense Magazine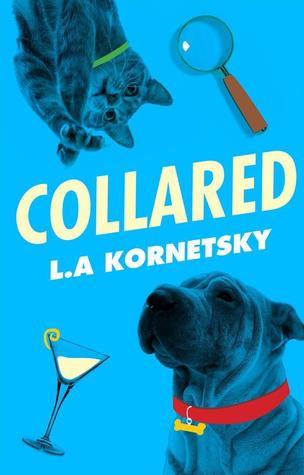 Praise for the first Gin & Tonic Mystery, Collared:
"The plot moves quickly, enhanced by smart dialog and good characterizations…Recommended for purchase where pet mysteries are popular."
Library Journal
Doghouse Excerpt
Author Guest Post: L.A. Kornesky
I'm getting ready for a move, and part of that is decluttering. Getting rid of things – objects, old paperwork – that I don't need to haul with me any more.
But in a folder of otherwise no-longer-needed papers, there's a sheet I'm keeping. It's from the ASPCA, and it documents my adoption of the kitten once known as Minna, who became my beloved Pandora, gone now a little over a year.
There's no point to keeping the sheet of paper. All it does is say that I paid x amount for a 4 month old female tiger kitten, spayed. But throwing it out isn't an option, either. Because this was the first connection I had to Pandora, the first contract we made with each other: I would give her food, shelter, care, and a lap when she wanted it. I would give her a home. And in return, she gave me such love and companionship, letting her go at the end was no less a pain than losing a human friend.
I don't have documentation from Indy-J, who was found on the street as a weeks-old kitten, and lived a long and adventurous life before cancer took her in 2000. But Pandora's adoption paper will go in the current file, along with the papers for our current residents, Boomerang (aka Boomer you idiot), and Castiel the Kitten of Thursday (aka DamnitCas).
Because you keep the important moments, the documents that say "this is how you changed my life."
(and some of you may note that I invite disaster in the renaming of my cats. You would not be wrong. But where's the fun of living with Sir Napsalot?)
About the author:
L. A. Kornetsky is the author of two previous Gin & Tonic mysteries. She lives in New York City with two cats and a time-share dog, and also writes fantasy under the name Laura Anne Gilman. She welcomes visitors to
www.lauraannegilman.net
, @LAGilman and Facebook L-A-Kornetsky.
There will be 2 winners of her most recent book,
Doghouse
. You do not have to read the other 2 books. It can be read as a standalone. My review is
HERE
. Since I'm sending these out myself the giveaway is open to those with
US
only
snail mail addys. Just fill out the rafflecopter form below to enter. Good luck!
a Rafflecopter giveaway