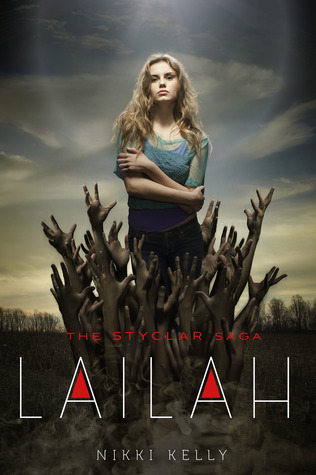 Series: The Styclar Saga #1
352 p.
Published: 11/7/14
Publisher: Feiwel and Friends
Source: From NetGalley and publisher for review
The girl knows she's different. She doesn't age. She has no family. She has visions of a past life, but no clear clues as to what she is, or where she comes from. But there is a face in her dreams – a light that breaks through the darkness. She knows his name is Gabriel.
On her way home from work, the girl encounters an injured stranger whose name is Jonah. Soon, she will understand that Jonah belongs to a generation of Vampires that serve even darker forces. Jonah and the few like him, are fighting with help from an unlikely ally – a rogue Angel, named Gabriel.
In the crossfire between good and evil, love and hate, and life and death, the girl learns her name: Lailah. But when the lines between black and white begin to blur, where in the spectrum will she find her place? And with whom?
Gabriel and Jonah both want to protect her. But Lailah will have to fight her own battle to find out who she truly is.
My thoughts:
The book starts with a prologue that sets up what we believe Lailah's parentage and what happened to her. It's an interesting beginning and I was looking forward to a great story. Right away I saw the resemblance to the Twilight series. There were other resemblances but this one really stood out for me. I kept thinking that perhaps I was seeing similarities where there was none, but when Gabriel actually sparkled I could not think that it wasn't purposeful in some way.
It is a very readable book, but the problems for me started when the worldbuilding took a sharp turn. Usually that is something that is consistent in a book but this one wasn't. It starts out with angels/ demons (vampires) within the Judeo-Christian mythos. Suddenly there was an extra terrestrial element thrown it. If this was at least hinted at in the beginning I wouldn't be bothered by it. I will give the author props for really being able to weave this element well into the worldbuilding, but because it seemed like such a departure for me I had problems with it.
My second big problem was with Cessie/Lailah and her "romances". First, I felt this was an very unsuccessful attempt at a triangle. I didn't see the appeal to Jonah at all. In fact he was anything but a demonic bully and he put her in direct harm more than once. Because of the danger she would be so fearful of the vampires she "befriended" but one instance on extreme jealousy with Gabriel had her running back into the arms of Jonah, no fear at all. This is the point I had to stop. The inconsistencies of her behavior was just too much for me so I decided to dnf.
I will however recommend it to those that enjoy a YA PNR. Checking the goodreads reviews it seems that you will either love this one or hate it. Might be one to try at the library for the first book.