Dangerous Destiny
Series: Night Sky #0.5
121 p.
Publisher: Sourcebooks Fire
Published: 8/26/14
Source: tbr pile
See how it all begins...
Skylar Reid is the new girl at school. Her mom just moved them to Florida—aka The Land of the Living Dead where the average age of her new neighbors was seventy-five—to start over. Skylar is not a fan of the change or her total lack of friends. Until she meets Calvin, a funny, sarcastic boy who doesn't let being in a wheelchair stop him from verbally shredding their preppy classmates. Skylar's just about to decide her new school's not a total loss when an odd girl wearing an oversized trench coat in the murderous Southern heat declares, "You're one of us." And then tries to kill her.
My thoughts:
This is a teaser for the beginning of this series. You get an introduction to the world that Skylar will have to inhabit but no more information than that. It really sets the tone for the first book in the series. In other words, it is a good appetizer. I give this book 3 stars. I recommend it to those wanting to really dive into the series, but have the first book on hand.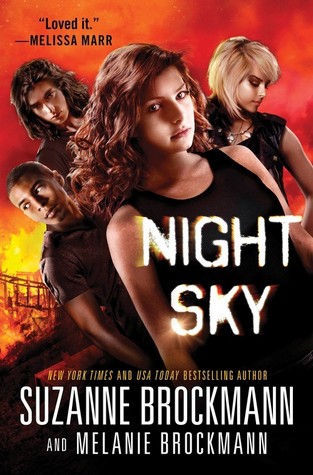 Night Sky
Series: Night Sky #1
496 p.
Publisher: Sourcebooks Fire
Published: 10/7/14
Source: From NetGalley and publisher for review
SHE'S THE ULTIMATE WEAPON IN FIGHTING DESTINY.
Skylar Reid is shaken when Sasha, the little girl she babysits, is kidnapped. Scared that the weird dreams she's been having about Sasha are real—and even more afraid that Sasha is already dead. When a mysterious girl with extreme butt-kicking abilities roars into town on a motorcycle and, well, stalks Skylar things get even weirder. Supergirl Dana tells Sky that she also has abilities – that a hormone in their blood makes them stronger, faster, smarter. A hormone that the makers of a new drug called Destiny will murder to get their hands on.
Dana and Milo, her dangerously hot yet oh-so-forbidden partner in crime, want Sky to join them in their mission – to mold Sky into the ultimate weapon. She can sense there's something about her abilities they're not telling her. But the only way to save Sasha and stop other girls from being taken is to embrace the weird…and fight Destiny.
My thoughts:
We start with a bang in this book and then we work backwards. I get why this is done... to capture your attention and then go with the explanation, but I became a bit frustrated after the first chapter. I wanted to go back to that initial "problem" and move forward from there. Of course if that would have happened, I would have wanted more information... so I guess it worked out in the end. :)
I did enjoy Skylar as a character. Loved watching her grow, but what really captured me was the secondary characters in this book. In some ways they even outshined Skylar. I loved them all! I even liked her mother who seemed a bit on the nutter side. I have a feeling there will be more to that relationship in the coming series.
I enjoyed the mystery in this one as well. It wasn't too hard to figure out, but there were a few small twists along the way. It left you with a good understanding of this world but with several questions left yet to be answered. I feel that those questions are going to be a part of a big arc in this series. There were a few inconsistencies with the girl's power toward the end, but nothing that bothered me. I also had problems with a few words that were on repetition. Still, these things were minor and didn't really pull me too far out of the story.
I give this book 4 stars. It is a pretty good start to a series I wish to continue. I recommend it to those that enjoy the superhero type and kick ass female characters.