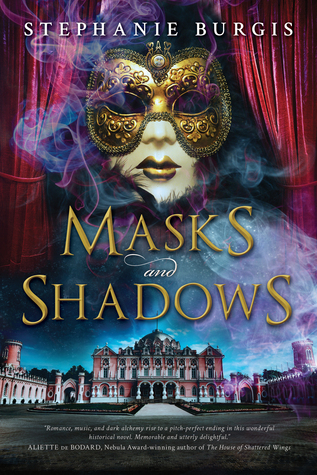 Standalone
300 p.
Publisher: Pyr
Published: 4/12/16
Source: From publisher for review
The year is 1779, and Carlo Morelli, the most renowned castrato singer in Europe, has been invited as an honored guest to Eszterháza Palace. With Carlo in Prince Nikolaus Esterházy's carriage, ride a Prussian spy and one of the most notorious alchemists in the Habsburg Empire. Already at Eszterháza is Charlotte von Steinbeck, the very proper sister of Prince Nikolaus's mistress. Charlotte has retreated to the countryside to mourn her husband's death. Now, she must overcome the ingrained rules of her society in order to uncover the dangerous secrets lurking within the palace's golden walls. Music, magic, and blackmail mingle in a plot to assassinate the Habsburg Emperor and Empress--a plot that can only be stopped if Carlo and Charlotte can see through the masks worn by everyone they meet.
My thoughts:
Oh the cover intrigued me and so did the blurb and yet I really didn't know what to expect in this book. I just knew it was about a historical setting, opera, and lots of music... and a bit of the paranormal thrown in. Yea, I knew this one would be for me.
The book goes through several POVs but what was confusing at first was just remembering who was who and that would have been a problem for me if it was only one POV. Quickly, it did settle in my head enough that the book took off and then shortly after that I had all the players securely in my head.
A mystery flows through the book and we know that the Prince is a big part of it. However, what is being planned and how much damage will be wrought? There is an undercurrent of secret society with a demon at it's center but those things tended to stay at the periphery until the end. The end culminates with the mystery surrounding the story, music and a whole lot of explosive magic. It was a complete ending.
I enjoyed that aspect of the story but what really captured me was the romance between Carlo a castrato and Charlotte who was newly widowed. Both have let society dictate their lives and both have suffered for it. They also need to learn to trust and it is hard trusting one another. However, I really was impressed with Charlotte shunning the drama for truth and that helped the romance move forward. I didn't quite see why Carlo loved Charlotte as much as I was able to see the reverse, but it didn't matter as I was still swept up in their romance. This part of the story really moved the rest of the mystery along more than the other POVs in the story.
I give this book 4 stars. I really enjoyed the historical setting, the feel of Hyden's music, and the mystery behind it all. I recommend it to those that love historical mystery fiction with a bit of paranormal at the fringes.