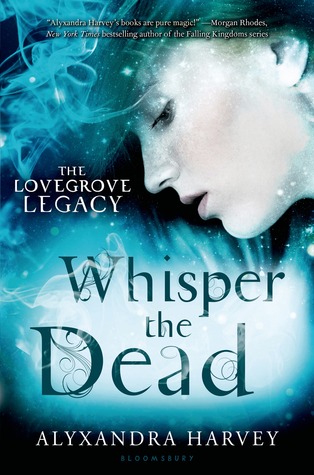 Series: The Lovegrove Legacy #2
408 p.
Published: 10/7/14
Publisher: Bloomsbury Childrens
Source: NetGalley and publisher for review
Cousins Gretchen, Emma, and Penelope are all dealing with what it means to be a Lovegrove. For Gretchen, it means she often feels like her head is going to explode. As a Whisperer, Gretchen constantly hears the whispers of other witches' spells. And while this does help her to know when one of her own spells is going wrong, the incessant buzzing and pain the whispers cause makes it difficult to use her gift.
But when something evil begins to menace Mayfair, Gretchen must find a way to master her power. Along with her cousins, a madcap named Moira, and the icy yet irresistible Tobias Lawless, Gretchen faces deadly threats and unimaginable loss in the hopes of preventing the terrible Greymalkin Sisters from rising again.

The second book in The Lovegrove Legacy trilogy, Whisper the Dead will leave readers spellbound.
My thoughts:
I had a bit of a problem getting into this one because it is told with multi-POVs which kept confusing me. Now had I read it right after the first I probably wouldn't have kept confusing the characters. Now when the girls, Gretchen, Emma and Penelope, separate I had no problems what so ever with getting everyone straight. Those parts of the book really took off for me and I was quite enthralled. I believe that if I had reread the first book none of it would have confused me. So, I recommend a reread of the first for those that might feel a bit lost with multi-POVs. I didn't feel that way with the first book and I sincerely think I am to blame for the confusion.
What I did love about this book is that the author went deeper with the characters. I felt like I got to know many of the secondary characters much better in this installment. I also liked how the magic really adds to the plot within this story. I felt it was stronger here than in the first book.
I give this book 3 stars. It is a book with multi-POVs and a complex plot. I do suggest a reread of the first book or even reading it close to reading this one. Don't let that put you off of the book. I think you will find a rich world with great characters within the pages. I do warn that there is a cliffie but it didn't bother me too much knowing that this is a trilogy and the conclusion to the adventure is in sight.