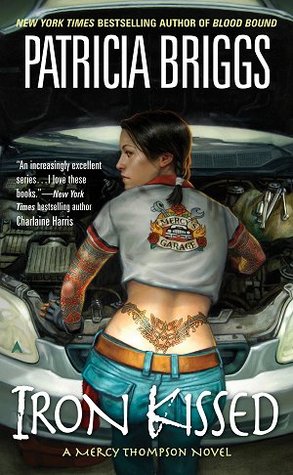 Series: Mercy Thompson #3
287 p.
Publisher: Ace
Published: 1/2/08
Source: tbr pile
"I could smell her fear, and it satisfied something deep inside me that had been writhing under her cool, superior gaze. I curled my upper lip so she could get a good look at my sharp teeth. I might only weigh thirty or so pounds in my coyote shape, but I was a predator..."
Mechanic Mercy Thompson can shift her shape - but not her loyalty. When her former boss and mentor is arrested for murder and left to rot behind bars by his own kind, it's up to Mercy to clear his name, whether he wants her to or not.
Mercy's loyalty is under pressure from other directions, too. Werewolves are not known for their patience, and if Mercy can't decide between the two she cares for, Sam and Adam may make the choice for her...
My thoughts:
Finally! Yes, I finally decided I needed to catch up with this series. I was so glad I picked up this book. It held me captive until I finished it. I also am SO happy that the love triangle is solved. I figured it would go the way that it did, but not how it did. Hm... can I volunteer for the one that wasn't picked? LOL
There is also a incident that I wasn't sure if I would like the way it was handled or not. However, I stuck with the story and ended up feeling that it was handled very well. I LOVED how Adam learned what she was going through. It really kicked Adam up a huge notch for me in the way he responded. While the ending didn't feel completely right, knowing Briggs she won't let it go. I can't wait to pick up the next book
I give this book 4 stars. I really enjoyed this installment and I can't wait to dive into the next book in the series.