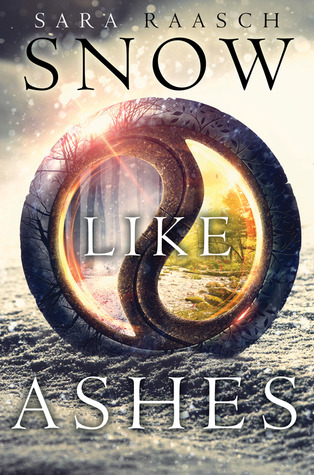 Series: Snow Like Ashes #1
422 p.
Publisher: Balzer + Bray
Published: 10/14/14
Source: From Edelweiss and publisher for review
A heartbroken girl. A fierce warrior. A hero in the making.
Sixteen years ago the Kingdom of Winter was conquered and its citizens enslaved, leaving them without magic or a monarch. Now, the Winterians' only hope for freedom is the eight survivors who managed to escape, and who have been waiting for the opportunity to steal back Winter's magic and rebuild the kingdom ever since.
Orphaned as an infant during Winter's defeat, Meira has lived her whole life as a refugee, raised by the Winterians' general, Sir. Training to be a warrior—and desperately in love with her best friend, and future king, Mather — she would do anything to help her kingdom rise to power again.
So when scouts discover the location of the ancient locket that can restore Winter's magic, Meira decides to go after it herself. Finally, she's scaling towers, fighting enemy soldiers, and serving her kingdom just as she's always dreamed she would. But the mission doesn't go as planned, and Meira soon finds herself thrust into a world of evil magic and dangerous politics – and ultimately comes to realize that her destiny is not, never has been, her own.
My thoughts:
This is one of those books that I would give to a reluctant fantasy reader. I know that a lot of high fantasy can be bogged down with details making it hard to read for those that aren't used to that sort of writing. This, however, is not bogged down with details, but gives just the right amount to keep the story moving and still put you fully in that world. I was enthralled with the story but once I hit the half way mark, I had a hard time putting it down. Who needs sleep?
My favorite thing about this book is Meira. I loved her transformation from a typical teen wanting to prove herself into a true leader. I also loved the world building in the book. And I will caution you about one thing... there is a love triangle brewing. Not sure how it will play out but it was done in such a way it didn't bother me in the least. I did feel on edge about it, but my worries never manifested. I suspect it is because romance is not a major player in this story but promises to readdress itself in later editions of this series.
I give this book 5 stars. I really enjoyed this book and my only complaint is that I don't have the second book in my hot little hands! As I said above I would recommend it to those that are reluctant to get into the fantasy genre.
PS... anyone kept picturing Xena when seeing this cover? One reason I loved it! LOL