I'll be doing a post on why I've been a bit MIA lately around the blogosphere (if you noticed, if not then just pretend you did... LOL). It is bad, good and I think I need a good nap.
In the meantime...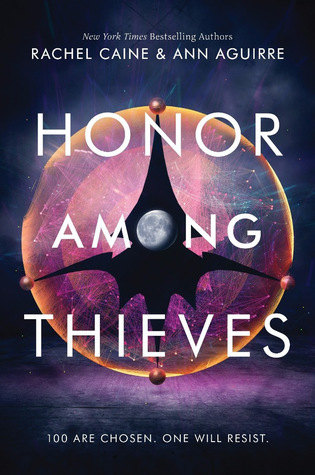 Honor Among Thieves
by Rachel Caine and Ann Aguirre
Published: 2/13/18
Publisher: Katherine Tegen Books
Zara Cole has been in and out of New Detroit's rehab facilities for treatment of her antisocial disorder. There's no adjusting Zara's attitude, though. A painful past has made her stronger than most, which is why she chose life in the Zone instead moving with her family to Mars. In her eyes, living inside a dome isn't much better than a prison cell.
Still, when Zara commits a crime that has her running scared, jail might be exactly where she's headed. Instead Zara is recruited into the Honors, an elite team of humans selected by the Leviathan–a race of sentient alien ships—to explore the outer reaches of the universe as their passengers.
Zara seizes the chance to flee Earth's dangers, but when she meets Nadim, the alien ship she's assigned to along with fellow Honor Beatriz, Zara starts to feel at home for the first time, along with a devotion she's never experienced before. Yet nothing—not her Honors training or her street smarts—could have prepared her for the dark, dangerous truths that lurk behind the glitter of starlight.
Honor Among Thieves is the first book in a daring new sci-fi series by bestselling authors Rachel Caine and Ann Aguirre.
Honor Among Thieves Excerpt:
I feel the stars.
Energy pulses against my skin, murmuring secrets about this small galaxy, about orbits and alignments and asteroids streaming in space. Impulse makes me want to dive and swim those currents, but I control these urges.
I shift my attention to the flutters of life within my skin.
Marko glows orange with crimson streaks. He is warm, always the easiest to find. Just now, he stands and stares at the blue-green orb swirling below us. I cannot swim down to see what he remembers of this place. The planet's gravitational pull would break my bones. But he shows me flashes: smiling faces, a field of flowers, an old woman with eyes like slices of sky.
"I'll miss you," I tell him.
He starts, surprised to hear me, as if he's ever truly alone. "Me too. It was a good run."
He once told me that it's strange when we talk; he thinks I should find him as insignificant as he does the bacteria in his stomach. But I have had time to acclimate to the strangers in my system. I safeguard the small voices, as is my privilege and duty. There will be more to my life, but only when I've proven myself.
The stars sing again, this time in strong, seductive harmony. I resist their melody, but the call is growing stronger.
Despite my passengers, I am empty in a way I cannot name. Marko tells me it is because our voyage is over; he calls this sadness. Perhaps I have learned this feeling from him. My first Honor gave me a human name, Nadim, and I have kept it safe, along with the other words and shapes and colors that shade my new existence. Like sadness.
I do not like this low orbit, but I must wait. I have been ordered to wait.
My new Honors will come.
~~~~~~~~~~~~~~~~~~~~~~~~~~~~~~~
Freebies
Don't forget these freebies:
Audiobook Sync
still going strong. These will be available until the 28th:
June 29th through July 5th will be:
American Night: The Ballad of Juan José by Richard Montoya
and
My Name is Not Easy by Debbie Dahl Edwardson
~~~~~~~~~~~~~
Audiobooks.com
is giving away an audiobook every Thursday this month. Unfortunately it only lasts 24 hrs and there is only one left for the month. So don't forget to check
HERE
for the book on the 29th.
Also, Tor.com has an ebook of the month club. Last month was Old Man's War by John Scalzi (no longer available). This month will be announced soon.
📚