I thought this was a great giveaway and I was asked to spotlight it for you. The review of Night Sky will come later in the month. For now, here is a excerpt and giveaway sponsored by the publisher.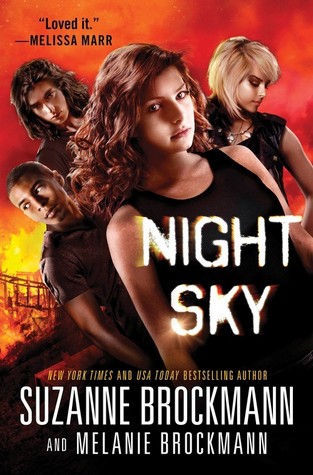 Night Sky
Series: Night Sky #1
496 p.
Published: 10/7/14
Publisher: Sourcebooks Fire
Skylar Reid is shaken when Sasha, the little girl she babysits, is kidnapped. Scared that the weird dreams she's been having about Sasha are real—and even more afraid that Sasha is already dead. When a mysterious girl with extreme butt-kicking abilities roars into town on a motorcycle and, well, stalks Skylar things get even weirder. Supergirl Dana tells Sky that she also has abilities – that a hormone in their blood makes them stronger, faster, smarter. A hormone that the makers of a new drug called Destiny will murder to get their hands on.
Dana and Milo, her dangerously hot yet oh-so-forbidden partner in crime, want Sky to join them in their mission – to mold Sky into the ultimate weapon. She can sense there's something about her abilities they're not telling her. But the only way to save Sasha and stop other girls from being taken is to embrace the weird…and fight Destiny.
"Look what I can do look what I can do," the woman, who I nicknamed Little Miss Sunshine because of her fancy clothes, yanked a massive-looking gun out of her bag.
Everyone in the store hit the deck at the sight of the gun—everyone except Calvin and me.
She pointed the barrel at my face.
A wave of deja vu washed over me. It was mixed with a hefty dose of panic and combined with at least a small degree of consolation that Calvin, as always, had my back.
"Oh, hell no!" he barked. All the fear had vanished from his tone, and now he just sounded pissed. "You wanna mess with someone? You wanna put your gun in her face? You're gonna have to shoot me first!"
And then, things got really weird.
"Hey!" someone called form behind Little Miss Sunshine. It was a girl, older than me but probably only by a year or two. She'd appeared as if out of nowhere, but she must've come in through the front doors while my attention was on that gun. Dressed in full motorcycle garb—a red leather jacket and black steel-toed boots—she hollered again. "Hey, you!"
Little Miss Sunshine whirled around.
Motorcycle Girl charged froward and flicked the pistol out of crazy lady's hands as easily as if she was removing a piece of lint from a buddy's jacket.
The gun spun a couple times before landing on the floor. Motorcycle Girl kicked it back into the air with her foot and caught it with one hand. She tucked it deftly into the back waistband of her pants and then slammed the crazy woman down onto the ground using the palm of one hand. I could have sworn Little Miss Sunshine took a nosedive before Motorcycle Chick even touched her, but then again, I'd been seeing all kinds of crazy things this week.
"Whoa," Calvin said, while the crowd gasped again.
Little Miss Sunshine landed, hard, and made a gurgling sound. She looked up once at me and pointed, still smiling that awful smile, before her face dropped to the ground.
The room once again was silent.
Motorcycle Chick turned, running a hand gruffly through her platinum-blond pixie cut as she looked at me and frowned, her eyes the color of icicles.
Around us, the crowd began to move almost as one, with everyone rushing for the door.
I was about to turn too—getting out of there seemed like a brilliant idea—when Motorcycle Girl spoke again. Her words stopped me. "Way to protect everyone here, Sky. What were you waiting for? A sign from God?"
I looked at Cal—Cal looked at me. And I knew we were both thinking the same thing.
How the hell does this girl know my name?
Goodreads Link
Buy Links
Biography
Suzanne Brockman, a
New York Times
and
USA Today
bestselling romance author, has won 2 RITA awards, numerous RT Reviewers' Choice, and RWA's #1 Favorite Book of the Year three years running. She has written over 50 books, and is widely recognized as a "superstar of romantic suspense" (
USA Today
). Suzanne and her daughter, Melanie Brockmann, have been creative partners, on and off, for many years. Their first project was an impromptu musical duet, when then-six-month-old Melanie surprised and delighted Suz by matching her pitch and singing back to her. Suzanne splits her time between Florida and Massachusetts while Mel lives in Sarasota, Florida. NIGHT SKY is Mel's debut and Suzanne's 55th book. Visit Suzanne at
w
ww.SuzanneBrockmann.com
.
Social Networking Links
Sourcebooks is giving away a great package. The contest is run by Sourcebooks and it is US/Can snail mail addys only. Good luck!