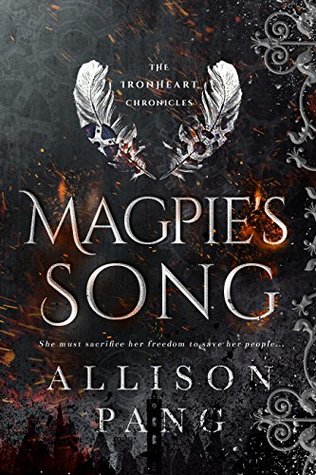 Series: The IronHeart Chronicles #1
325p.
Publisher: Author published
Published: Aug. 8, 18
Source: From author (won book)
In the slums of BrightStone, Moon Children are worth less than the scrap they must collect to survive. It doesn't matter that these abandoned half-breeds are part-Meridian with their ancestors hailing from the technologically advanced city that floats above the once-thriving, now plague-ridden BrightStone. Instead they are rejected by both their ancestral societies and forced to live on the outskirts of civilization, joining clans simply to survive. Not to mention their role as Tithe, leading the city's infected citizens deep into the Pits where their disease can be controlled.

Nineteen-year-old Raggy Maggy is no different, despite the mysterious heart-shaped panel that covers her chest. Or at least she wasn't… Not until her chance discovery of a Meridian-built clockwork dragon—and its murdered owner. When the Inquestors policing the city find Maggy at the scene of the crime, she quickly turns into their prime suspect. Now she's all anyone can talk about. Even her clan leader turns his back on her, leading her to rely on an exiled doctor and a clanless Moon Child named Ghost to keep her hidden. In return, all she has to do is help them find a cure for the plague they believe was not exactly accidental. Yet doing so might mean risking more than just her life. It also might be the only key to uncovering the truth about the parents—and the past—she knows nothing about.
My thoughts:
This is an author who also wrote the
Abby Sinclair series
(oh if you haven't read it... go do it now! Seriously, we will wait...) so I was very happy when I won my copy. This is quite different than her other series. This one is is YA (older) and a bit steampunk-ish (not too heavy on it) with a mystery to by solved. It also is dark with a dystopian feel. It isn't dystopian since it happens in a much different world than ours, but you know something happened to separate the rich from the rest of the rabble. It also created a plague which cannot be cured and children who are immune to the plague and are marked by their snow white hair. Rejected and feared, the children barely survive in thieving clans and used as caretakers to those infected and doomed to die in the tunnels.
Okay, I don't want to give away any more as it also has a mystery feel to the story and it is always good to slowly have things revealed. The worldbuilding is easy to slip into and you want to know everything and you become more invested as the story reveals bits of this world. The world isn't bright and shiny, but as I have already stated, it is dark, it is dirty, and dangerous. I also wouldn't worry with the YA title as it has murder, betrayal and even casual sex (nothing graphic, but just states it as fact). It also has some incredible gadgets that I hope the author explores more in future books.
My biggest complaint? It isn't long enough. You know where the book was going and it took it's time to get there (which isn't a bad thing here) and when it gets there it ends. It isn't a cliffie but you need the next book to find out what how and more about this world.
I give this book 4 stars. I think anyone wanting a fantasy world which isn't heavy handed but engaging should try this book. Also, don't forget to try her other series. You won't regret either series.
🐉