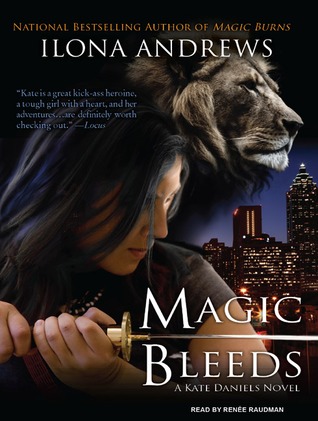 Series: Kate Daniels #4
Narrator: Renée Raudman
Unabridged
13 hrs. 7 min.
Publisher: Tantor Media
Published: 5/25/10
Source: Library/Hoopla
Atlanta would be a nice place to live, if it weren't for the magic. When the magic is up, rogue mages cast their spells and monsters appear, while guns refuse to fire and cars fail to start. But then technology returns, and the magic recedes as unpredictably as it arose.
Kate Daniels works for the Order of Knights of Merciful Aid, officially as a liaison with the mercenary guild. Unofficially, she cleans up the paranormal problems no one else wants to handle---especially if they involve Atlanta's shapeshifting community.
When she's called in to investigate a fight at the Steel Horse, a bar on the border between the territories of the shapeshifters and the necromancers, Kate quickly discovers that there's a new player in town. One who's been around for thousands of years---and who rode to war at the side of Kate's father.
This foe may be too much even for Kate and Curran, the Beast Lord, to handle. Because this time Kate will be taking on family.
My thoughts:
You know if you step back and look at what went on in this book you would say that it is all about relationships. Romantic relationships with misunderstandings, coming together and facing a problem together. Family relationships, some that include friends you consider family and those crazy relatives you don't want anyone to know that you are related to each other. Okay, this makes it sound like chick lit.... as long as you ignore all the bloody fights. But then again... some family dynamics seem tame compared to the shenanigans that exploded here. (fyi note: I do not watch reality tv but I've seen the commercials! LOL)
I have to say I loved this book in the series. The series just seems to be getting better and better. In fact I was sad to have had it ended. I just didn't want to put it down. Reneé Raudman also does an excellent job with the narration and I do plan on doing the rest of the series in audio. I highly recommend this series on audio (if you haven't guessed already!). I also give this relationship book 5 stars. This series really captures a dysfunctional family in a fun way. :D I recommend the series for those that enjoy UF.