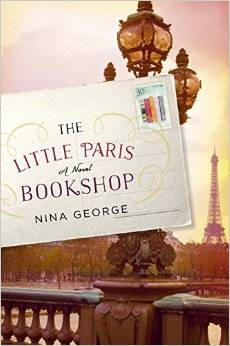 Standalone
400 p.
Publisher: Crown
Published: 6/23/15
Source:
Blogging for Books
for review
"There are books that are suitable for a million people, others for only a hundred. There are even remedies—I mean books—that were written for one person only…A book is both medic and medicine at once. It makes a diagnosis as well as offering therapy. Putting the right novels to the appropriate ailments: that's how I sell books."

Monsieur Perdu calls himself a literary apothecary. From his floating bookstore in a barge on the Seine, he prescribes novels for the hardships of life. Using his intuitive feel for the exact book a reader needs, Perdu mends broken hearts and souls. The only person he can't seem to heal through literature is himself; he's still haunted by heartbreak after his great love disappeared. She left him with only a letter, which he has never opened.

After Perdu is finally tempted to read the letter, he hauls anchor and departs on a mission to the south of France, hoping to make peace with his loss and discover the end of the story. Joined by a bestselling but blocked author and a lovelorn Italian chef, Perdu travels along the country's rivers, dispensing his wisdom and his books, showing that the literary world can take the human soul on a journey to heal itself.

Internationally bestselling and filled with warmth and adventure, The Little Paris Bookshop is a love letter to books, meant for anyone who believes in the power of stories to shape people's lives.
My thoughts:
This book sounded like a mix of magical realism with books! How could I resist. I had to review this one. :)
The book did have the magical realism aspect. That kind of etherial quality to it that makes unusual things happen. We are to marvel at it and move on as if it should be an expected part of life. In fact, it reminded me of
Chocolat
where Vianne can tell their favorite chocolate or what sweetness to life was missing from the person visiting her shoppe. It is the same here. Perdu can tell you what book you need in your life by a few questions and intuition. He is an literary apothecary which brings books to those who are in need. However, who helps the helper when it is needed?
The book's adventure really starts when it is Perdu's time to go forth and find something through books and beyond books to find what he has lost. This is a story about forgiveness, loss, redemption, and finding your own HEA. In fact, this story has more than one HEA.
I think my only complaint was that it at times felt a bit uneven in the pacing and that there were spots where I felt it jumped a bit in the story. It may have been just me, but I wonder since I do believe this is a translated version of the book,
Das Lavendelzimmer
, the original title.
I give this book 3 1/2 stars and recommend it to those that enjoy magical realism and moving on in life.