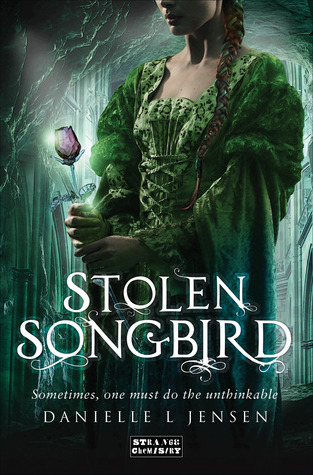 Series: The Malediction Trilogy #1
469 p.
Published: 4/1/14
Publisher: Strange Chemistry
Source: Library
For five centuries, a witch's curse has bound the trolls to their city beneath the mountain. When Cécile de Troyes is kidnapped and taken beneath the mountain, she realizes that the trolls are relying on her to break the curse.
Cécile has only one thing on her mind: escape. But the trolls are clever, fast, and inhumanly strong. She will have to bide her time…
But the more time she spends with the trolls, the more she understands their plight. There is a rebellion brewing. And she just might be the one the trolls were looking for...
My thoughts:
After hearing so much praise for this book, I couldn't wait to dive into the story. I was glad that I did. I was worried about starting the trilogy since Strange Chemistry has gone under, but Angry Robot has picked up the series and will finish the trilogy.
While some of the book seems like the same YA adventures you get: kidnapping, secrets, and a mystery to be solved, you also get a few things you don't always get in YA. A strong female protagonist. While she did on occasion frustrate me with her whining, it was very short lived, and to be honest, I couldn't have not gone on that long without whining. LOL She quickly took stock of what is going on and what she could do to improve her situation and goals. I loved that about Cecile. I also loved that she became fast friends to the trolls in her midst as well as those that were treated as slaves. She was able to assess the situation despite Tristan keeping so many secrets from her.
In fact, this is where it fails a bit for me, the romance. I didn't quite buy the romance between Cecile and Tristan but I wasn't unconvinced either. It was in an area where I could just push through despite my lackluster feeling for their romance. I also had problems with Tristan and how he chose to trust others around him. It might have helped if I had more background on Tristan but as it stood, he frustrated me with Cecile. Granted, I would have been more put out if he trusted her too soon, but he gave her no way to earn his trust until he gave her a choice reminiscent of Beauty and the Beast.
I give this fantasy 3 1/2 stars. I enjoyed my time here. While I wasn't completely convinced of their romance I still found it sweet. My biggest highlight was Cecile and her ability to adapt. I became involved in the adventure and I have to know what happens next. I'm very happy my library has the next book ready for me to read.