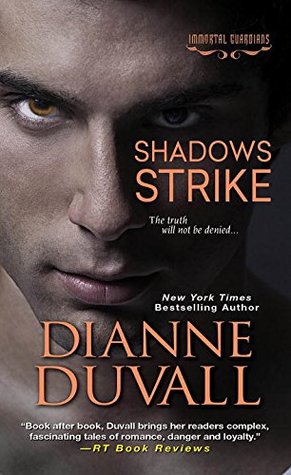 Series: Immortal Guardians #6
320 p.
Publisher: Zebra
Published: 8/25/15
Source: From author for review
The Immortal Guardians protect the innocent in secret. Sometimes the secret gets out...
U.S. law enforcement agent Heather Lane can read minds. But not the future. The dream of battle and blood that recurs every night must be a fluke, some obscure terror from her own mind. What its significance might be, she can't guess: an attack from seven psychotic vampires at once, only separated from nightmare by an eighth very different immortal. A handsome, brave man fighting at her side, a man she misses when she wakes.
Then the dream comes true. Heather is flung into a war between predators and protectors of humanity, the man from her dreams beside her again. Except now that she's awake, she isn't sure she can trust Ethan, or the shadow organization he represents. The U.S. military doesn't trust either of them. But against an onslaught of evil like the one that's coming, it will take everything they have just to survive...
My thoughts:
Ah Ethan's story! This is one of my favorite urban fantasy, paranormal romance series and I was happy to read Ethan and Heather's story. It is one that is a sort of an insta-love in a way, but the reasons were fully explained and it made sense. So, in this case it didn't bother me at all. In fact, the characters themselves explored this insta-attraction / love openly.
Ethan makes a great swoony character. He loves and appreciates strong women and Heather is a great heroine who takes to this new world with aplomb. They make a great couple and a fun one to read. Yes, there is plenty of humor with the romance in the banter between the two characters. And while you could read these books out of order, it makes more sense to get them in order. You get a better sense of the characters and the overall arc within the series. We do move further along the arc and even get new characters. Oh I do hope this series doesn't end. We have so many other immortals to explore. ;)
I don't want to say too much about this book for fear that I'll reveal more of the book than the blurb above. I will say that I give this book 5 stars and highly recommend the series to those that love PNR with a UF kick.
Don't forget to go to the author blog post
HERE
for some great quotes and a chance at a great prize!