Oh I've wanted to know about this book since Dan Dos Santos revealed this cover: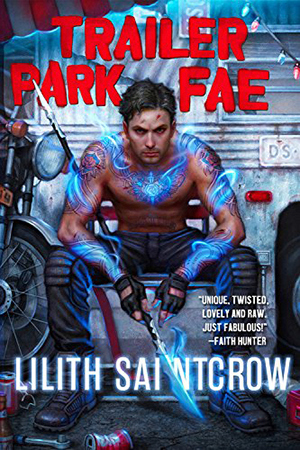 Trailer Park Fae
by Lilith Saintcrow
Series: Gallow and Ragged #1
320 p.
Publisher: Orbit
Published: 6/23/15
New York Times bestselling author Lilith Saintcrow returns to dark fantasy with a new series where the fairy world inhabits diners, dive bars and trailer parks.
Jeremy Gallow is just another construction worker, and that's the way he likes it. He's left his past behind, but some things cannot be erased. Like the tattoos on his arms that transform into a weapon, or that he was once closer to the Queen of Summer than any half-human should be. Now the half-sidhe all in Summer once feared is dragged back into the world of enchantment, danger, and fickle fae—by a woman who looks uncannily like his dead wife. Her name is Robin, and her secrets are more than enough to get them both killed. A plague has come, the fullborn-fae are dying, and the dark answer to Summer's Court is breaking loose.
Be afraid, for Unwinter is riding...
So what are you wishing for this week?