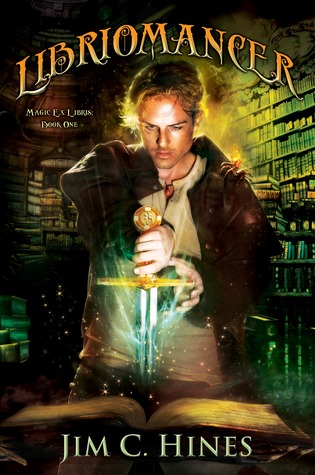 Series: Magic Ex Libris #1
308 p.
Publisher: DAW
Published: 8/7/12
Source: Library
Isaac Vainio is a Libriomancer, a member of the secret organization founded five centuries ago by Johannes Gutenberg. Libriomancers are gifted with the ability to magically reach into books and draw forth objects. When Isaac is attacked by vampires that leaked from the pages of books into our world, he barely manages to escape. To his horror he discovers that vampires have been attacking other magic-users as well, and Gutenberg has been kidnapped.
With the help of a motorcycle-riding dryad who packs a pair of oak cudgels, Isaac finds himself hunting the unknown dark power that has been manipulating humans and vampires alike. And his search will uncover dangerous secrets about Libriomancy, Gutenberg, and the history of magic...
My thoughts:
Well, what better book to get from the library to read? I've been wanting to read this book since it first came out and what I got was a magical adventure. One that was fun and wished I had the magical powers to reach into a book and pull out magical things. Harry Potter anyone? LOL
The worldbuilding here is tricky but I think the author does a pretty good job at explaining things. It seems to cover most of the plot holes that could have occurred. The reason why certain things could and could not be taken from books. Also what it does to the magician taking these things. We are still left with a few minor holes but I think that is to be expected and would be impossible to cover everything in a first book.
I enjoyed the ride and the magic involved but I didn't love the romance in the book. Oddly enough I didn't hate it either. I think if it was solved differently in the end I would feel differently but it was an odd ending to that part of the book. I will not divulge more than that cryptic statement with the exception that I will say that this is the first book that makes a triangle perfectly reasonable for at least one character. *evil laugh* (now you have to figure that one out... )
What surprised me is Smudge. I am a firm believer in arachnophobia so color me surprised when I loved this spider! Granted he isn't real in the sense that he came from a book but then again, that might be the only way I would love a spider like that. Oh and he explodes into flame. :D
I give this book 4 stars. I recommend it to those that love to read and those who love magic. I especially recommend it to those that enjoy the fantasy and sci-fi genres. You will find a lot in common with the hero in this book.