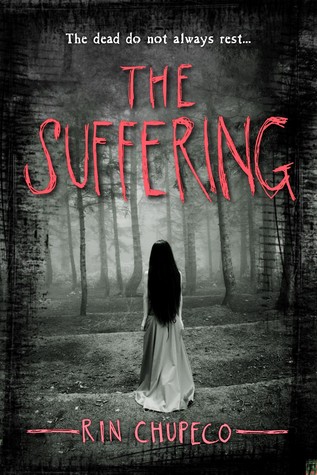 Series: The Girl From the Well #2
272 p.
Published: 9/8/15
Publisher: Sourcebooks
Source: NetGalley and Publisher for review
Over the last year I've gone against faceless women, disfigured spirits, and grotesque revenants. Some people keep dangerous hobbies; skydiving and driving at monster truck rallies and glacier surfing. Me? I cast my soul into the churning waters of potential damnation and wait for a bite.

It's been two years since Tark Halloway's nightmare ended. Free from the evil spirit that haunted him all his life, he now aids the ghostly Okiku and avenges the souls of innocent children by hunting down their murderers. But when Okiku becomes responsible for a death at his high school, Tark begins to wonder if they're no better than the killers they seek out.
When an old friend disappears in Aokigahara, Japan's infamous 'suicide forest', both must resolve their differences and return to that country of secrets to find her.

Because there is a strange village inside Aokigahara, a village people claim does not exist. A village where strange things lie waiting.
A village with old ghosts and an ancient evil – one that may be stronger than even Okiku…
My thoughts:
Well, I've said I was a wimp. I always shied away from horror. However, I've been reading more zombie novels and more paranormal with a horror flair and not even had a wimper. I do remember the first book and I remember saying that yea... this is horror. It was one of the few that could scare me. This one is no exception and I would suggest that lights on or at least daylight be your friend when reading this book. I also recommend reading it in order because the characters are established in the first book.
Now those that are saying, "No way!" because it is horror... I want to give you a pause. While this did creep me out and make me dive under the covers, it also captivated me. The story was so good and the twists in this book made you want to know more and what happens next. The characters are outstanding and you fall for Okiku the unusual ghost. There is also the Japanese flair to mythology in this book and that is a bonus for those who want to read different mythologies than what we usually get. The only flaw I can say is that there is a time toward the end that Tark struggles and we don't get to see much of that. Granted the volume would be huge, but I'm fine with that when it is a good book. The other flaw is that it made me cry. Okay, not a flaw for most but I hate to cry. :)
I will give this book 4 1/2 stars. I really enjoyed it and it does have a sort of a HEA. It is one that you both want and don't want at the same time. One that will make you happy and sad but still call it an HEA. Curious? ;)