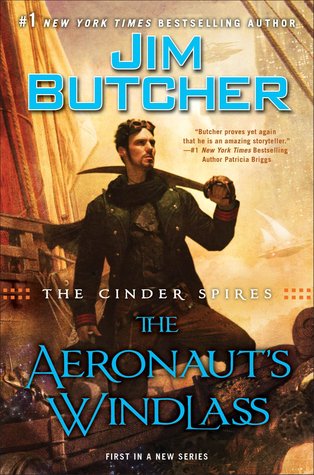 Series: The Cinder Spires #1
640 p.
Published: 9/29/15
Publisher: Roc
Source: NetGalley and publisher for review
Since time immemorial, the Spires have sheltered humanity, towering for miles over the mist-shrouded surface of the world. Within their halls, aristocratic houses have ruled for generations, developing scientific marvels, fostering trade alliances, and building fleets of airships to keep the peace.
Captain Grimm commands the merchant ship, Predator. Fiercely loyal to Spire Albion, he has taken their side in the cold war with Spire Aurora, disrupting the enemy's shipping lines by attacking their cargo vessels. But when the Predator is severely damaged in combat, leaving captain and crew grounded, Grimm is offered a proposition from the Spirearch of Albion—to join a team of agents on a vital mission in exchange for fully restoring Predator to its fighting glory.
And even as Grimm undertakes this dangerous task, he will learn that the conflict between the Spires is merely a premonition of things to come. Humanity's ancient enemy, silent for more than ten thousand years, has begun to stir once more. And death will follow in its wake…
My thoughts:
I actually haven't read a Jim Butcher book before but he was on my must try author list. I'm glad I gave this one a shot. I was in the mood for fantasy and this one really delivered. It is labeled steampunk but very little steam makes the objects work. Crystalpunk? Well, in any case, the world did feel like a steampunk kind of world.
What really enthralled me with this book was the characters. The females are capable or either learning to be capable. The girl who wins the swoony guy isn't the prettiest but has the best heart. The pretty girl is more than her looks. She has sass and mechanical skills. There were even oddball characters that you really got to know and enjoy. The guys who are leaders aren't just the ones giving orders, they know how to listen to others as well. This was played out smart and so the twists felt smart. My favorite character was Rowl. Rowl was a cat.
Yes, a cat.
He had his own personality and language to go in this fantasy world. He was also the most arrogant character of them all. I guess it is a good thing Rowl is also cute and fuzzy. LOL
My biggest complaint would be the action scenes. I felt that a few could have been more efficient in the telling and didn't need quite as much detail at times. There was also a part where the captain was explaining in great detail what his plans or non-plans were and it was a bit much but it only really lasted a short while so it wasn't a huge detriment in the whole story. I just couldn't buy that he had to waste that much time explaining rather than engaging.
I give this book 4 stars. I really enjoyed my time here and had a lot of fun with the different aspects to this world. My favorite parts were the unexpected like Rowl and the etherialists. Very odd characters but rounded out the rest of the crew nicely. I am curious to see where we go next in this series.