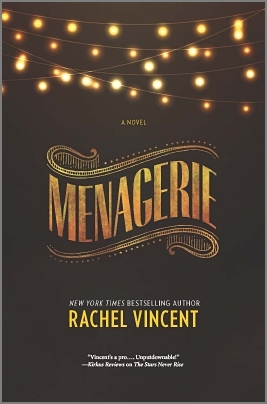 Series: Menagerie #1
432 p.
Published: 9/29/15
Publisher: MIRA
Source: NetGalley and publisher for review
When Delilah Marlow visits a famous traveling carnival, Metzger's Menagerie, she is an ordinary woman in a not-quite-ordinary world. But under the macabre circus black-top, she discovers a fierce, sharp-clawed creature lurking just beneath her human veneer. Captured and put on exhibition, Delilah in her black swan burlesque costume is stripped of her worldly possessions, including her own name, as she's forced to "perform" in town after town.

But there is breathtaking beauty behind the seamy and grotesque reality of the carnival. Gallagher, her handler, is as kind as he is cryptic and strong. The other "attractions"—mermaids, minotaurs, gryphons and kelpies—are strange, yes, but they share a bond forged by the brutal realities of captivity. And as Delilah struggles for her freedom, and for her fellow menagerie, she'll discover a strength and a purpose she never knew existed.

Renowned author Rachel Vincent weaves an intoxicating blend of carnival magic and startling humanity in this intricately woven and powerful tale.
My thoughts:
I did think that this book was a YA book but since the main character is about 25, I would say this is adult. However, a older YA person would easily get into it. It does have a few adult themes to it (for example, rape but nothing graphic). I was actually glad this one was adult and slipped into the world easily.
There was a big event in which many children are slaughtered in their sleep and replaced by "others". The criptid world (fae world) is blamed and stripped of any form of dignity and autonomy. They aren't sentient beings anymore to the human population at large in the US. While we get snippets of what happened, we are no closer to the answers in this book. However, that didn't bother me since this is primarily Delilah's book and how she came to be a part of this underworld and what it means for everyone. I really liked and connected with Delilah and loved how she cared for others who were so unlike her.
I devoured this book. It was just one of those books I wanted at the right time and I had fun with this one. I actually purposefully put it down so I could sleep knowing that if I read on, I would have thoughts swirling in my head and sleep would elude me. While we don't get to know all the criptids in the menagerie, I do think that will be forthcoming in future books. We get to know enough that it fills our world with creative and interesting creatures and what it would be like to get to know them all.
I give this book 4 1/2 stars. While I guessed a lot before it was revealed and the ending was expected, it still made me want to devour this book whole. I had fun with this one and I'm looking forward to the next book. Not all the questions are answered and there is a potential danger lurking in our group's future.