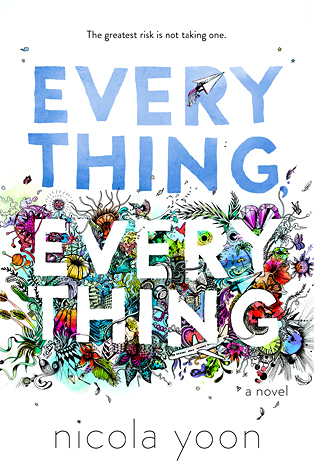 Standalone
320 p.
Publisher: Delacorte Books for Young Readers
Published: 9/1/15
Source: NetGalley and publisher for review
My disease is as rare as it is famous. Basically, I'm allergic to the world. I don't leave my house, have not left my house in seventeen years. The only people I ever see are my mom and my nurse, Carla.
But then one day, a moving truck arrives next door. I look out my window, and I see him. He's tall, lean and wearing all black—black T-shirt, black jeans, black sneakers, and a black knit cap that covers his hair completely. He catches me looking and stares at me. I stare right back. His name is Olly.
Maybe we can't predict the future, but we can predict some things. For example, I am certainly going to fall in love with Olly. It's almost certainly going to be a disaster.
My thoughts:
I have a lot of mixed feelings about this book. On the good side I loved the main character. I also loved that she is mixed race. I also loved the format in which the story is told. We get a lot of Maddy's drawings and doodlings which really brings her inner life to the forefront. This is unusually told and I really loved that about this book.
However, the unusual parts stop there.
I figured out what was going on really early on. First, confusing "allergic to the world" with extreme immunodeficiency was the key. To put it plainly, one process is the lack of a properly working immune system (or underreaction) and the other is an overreaction of the immune system. This was my first red flag and at this point I was more worried that it wasn't well researched. I also understand that not everyone would catch this, but for Maddy who has a rare disorder or disease I'm sure she would know all the ins and outs of her disorder. Maddy didn't seem to know much about it and she was smart and precocious. Too many blanks and mysteries when it came to her disease. My guess is that she would have learned everything about it to solve that puzzle. Why didn't she know of alternative treatments even if her mother disapproved? There were other red flags but that was the first and the most blatant. So, therefore, I knew what I was getting and that part seemed to follow the formula (I'm trying not to spoil so I say "formula" here). I wasn't surprised with the rest of the book. I should also mentioned that because of the formula, the research I worried about need not apply.
I did love the ending but I did wish for something more. I was hoping this one would be different. While the execution was different and inspired, the content followed expectations. I would read another book by this author however and I do recommend this book. I do love her imagination. I give this book 3 stars.