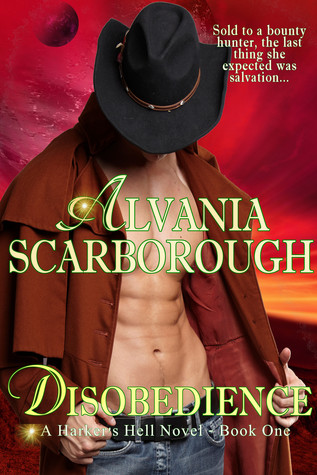 Series: Harker's Hell #1
334 p.
Publisher: Silver Harbor Press
Published: 6/16/14
Source:
Caffeinated Virtual Assistant Services
for review.
Harker's Hell. Early settlers thought they'd found a western re-creationist's heaven. Instead, the new world is a hellish version of the Old West. Now the seeds of long-ago conflict are stirring to life.

Dissonance Walker believed she'd seen the worst life had to offer, only to find she's dead wrong. Sold to a secret organization by her parents for the price of a new stove, her ability to disobey is ripped away by a brutal experiment. Determined to find the key to restore her freedom, she manages to escape her captors, only to end up in the worst place for a woman that can't say no—on a saloon stage, ready to be sold to the highest bidder.

Bram Spencer is sure the heat has baked his brains. With his friend murdered and his ranch under attack, he needs to attend a little unfinished business. Buying some fool woman because she pokes at scabs he thought long healed, isn't on the list. It's bad enough he has to go through the fuss of rescuing her, now he discovers the only way to grant her freedom is to marry her. This is why he never plays the hero—no good deed goes unpunished.

Secrets have a long life. Sometimes decades. Now the sins of the past have returned, ready to collect their dues. Only trust can save Dissonance and Bram from a shocking evil… but trust is a hard commodity to come by on the frontier.
My thoughts:
This is a mash up of several genres. One is a western which is quite obvious. However, it is set on an alien planet, not earth. While this might sound confusing at first, it really isn't. In fact it reads more like an old western historical with alien parts thrown in for good measure. That made you pay more attention to the worldbuilding.
While I did like the interplay of genres, there was parts of a journal which started each chapter. It was about the founder and how the area became to be known as Harker's Hell. While I did like the added information, it really tended to confuse me. I didn't see how it played in the story until toward the end. Even then it has no conclusion and it appears to be the arc within the series. I think there will be more information as the series progresses. It does look like it continues on within the next book.
While that may have gave me pause, the story as a whole was fun to read. While I actually didn't like Bram at the beginning and even wanted his arse to be kicked throughout most of the novel, I actually melted when he realized he was causing Dissonance, the heroine, actual pain. When his understanding dawned and even though he had to go though one more arse kicking to "get it", when he did, he fully understood and became so kind and sweet to Dissonance. It was his kindness that really got to me. Yes, he had me as a fan in the end.
I give this book 4 stars. While I did find some of the worldbuilding a bit confusing I also felt it will have it's place as it builds within the series. What really shone in this book is the romance and how they truly came together. I recommend it to those that love a good fantasy romance.