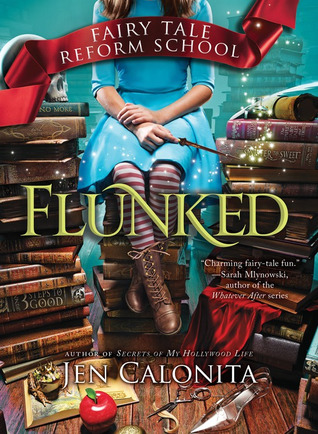 Series: Fairy Tale Reform School #1
Unabridged
Narrator: Kristin Condon
5 hrs. 17 min.
Publisher: Dreamscape Media, LLC
Published: 3/1/15
Source: Audiobook Jukebox for review
Would you send a villain to do a hero's job? An exciting new twisted fairy tale series from award-winning author Jen Calonita.
Full of regret, Cinderella's wicked stepmother, Flora, has founded the Fairy Tale Reform School with the mission of turning the wicked and criminally mischievous into upstanding members of Enchantasia.
Impish, sassy 12-year-old Gilly has a history of petty theft and she's not too sorry about it. When she lifts a hair clip, she gets tossed in reform school-for at least three months. But when she meets fellow students Jax and Kayla, she learns there's more to this school than its sweet mission. There's a battle brewing and she starts to wonder: can a villain really change?
My thoughts:
I was actually thinking this one was YA as I went into it even though the blurb does specify that Gillian is 12 years old. It didn't bother me in the least and I know already several kids I would recommend this MG audiobook.
The audiobook is just long enough to tell a story and short enough to keep the MG crowd interested. This would be a great story to take along on a car trip. It is also cute enough to keep the parents interested. Kristin Condon does an excellent job of narration. While her male voices aren't too masculine it works here since the characters haven't fully hit puberty. Kristin really keeps the story moving and interesting.
The story on the whole is a retelling where some of the fairy tale villains have reformed and are setting up a school where they are trying to catch delinquents of Enchantasia early and keep them off the villain list. This creates a cute world where everything we know is either "fact" or an exaggeration of the truth. I always find these things fun.
I give this audiobook 4 stars. I think fans of
Ella Enchanted
will find the same fun tongue in cheek retelling of their favorite fairytale worlds. It is also a great way to get kids into audiobooks or just a bit calmer during a long car trip. The main character is growing as, I assume, the series grows. I think it will be a fun ride.