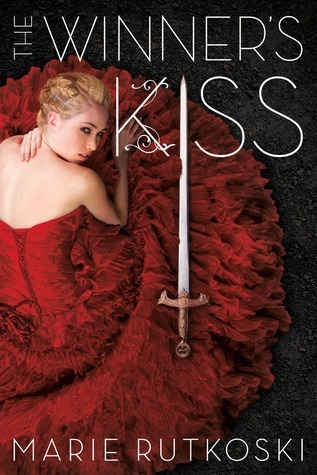 Series: The Winner's Trilogy #3
484 p.
Publisher: Farrar, Straus and Giroux
Published: 5/29/16
Source: Library
Some kisses come at a price.
War has begun. Arin is in the thick of it with untrustworthy new allies and the empire as his enemy. Though he has convinced himself that he no longer loves Kestrel, Arin hasn't forgotten her, or how she became exactly the kind of person he has always despised. She cared more for the empire than she did for the lives of innocent people—and certainly more than she did for him.
At least, that's what he thinks.
In the frozen north, Kestrel is a prisoner in a brutal work camp. As she searches desperately for a way to escape, she wishes Arin could know what she sacrificed for him. She wishes she could make the empire pay for what they've done to her.
But no one gets what they want just by wishing.
As the war intensifies, both Kestrel and Arin discover that the world is changing. The East is pitted against the West, and they are caught in between. With so much to lose, can anybody really win?
My thoughts:
Oh left with a killer ending that left me reeling for the next one. FINALLY the person who had it checked out released the book and it was in my hot little hands (well, virtually since it was an ebook). Can I say I love being able to put books on hold with the option to immediately check it out for you? Okay, enough of my drama (heh) and onto Kestrel and Arin's drama... trying to do it without spoilers (well, there may be slight spoilers but I will do my best). Oh you who have not read these are making it hard for me.
Well we were left with Kestrel in a precarious position that only got worse. Even with everything she was going though I had to admire her strength. You also couldn't blame her giving in but never totally giving up. Arin, on the other hand, annoyed me to no end. He was fine until he met up with Kestrel and then it was all about him. It got to the point I wanted to tell him to get over himself and he would have bothered me more if it wasn't for the character of Roshar. Roshar became Arin's balance and best friend... even later to Kestrel. At least it was Arin and not Kestrel in that role. It is that is usually the role of the female to be that annoying. I really admired how Kestrel moved through her trauma and moved toward healing. Arin did finally come around and he became the man I could root for again. I never totally lost my ability to root for him since he did care for his country and the people in it so deeply.
I give this ending book 4 stars. I got all my questions answered and it was a solid ending to the adventure. I would love to read a book about Roshar and could totally see him in a book of his own. I recommend it to those that enjoy fantasy YA.