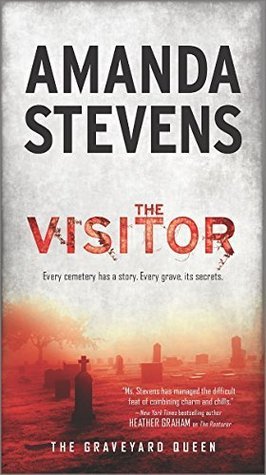 Series: Graveyard Queen #4
400 p.
Published: 3/29/16
Publisher: MIRA
Source: NetGalley and publisher for review
My name is Amelia Gray. I'm the Graveyard Queen.
Restoring lost and abandoned cemeteries is my profession, but I'm starting to believe that my true calling is deciphering the riddles of the dead. Legend has it that Kroll Cemetery is a puzzle no one has ever been able to solve. For over half a century, the answer has remained hidden within the strange headstone inscriptions and intricate engravings. Because uncovering the mystery of that tiny, remote graveyard may come at a terrible price.
Years after their mass death, Ezra Kroll's disciples lie unquiet, their tormented souls trapped within the walls of Kroll Cemetery, waiting to be released by someone strong and clever enough to solve the puzzle. For whatever reason, I'm being summoned to that graveyard by both the living and the dead. Every lead I follow, every clue I unravel brings me closer to an unlikely killer and to a destiny that will threaten my sanity and a future with my love, John Devlin.
My thoughts:
I've noticed that reading horror is so much easier on me in book format. Not all movies scare me but the thinking after does. I think the book just engages me so much that I don't always make my own horror after it. There are a few exceptions. This is one of them and it did make me think about sleeping with the lights on. :) Yea, the big dog is worthless here. LOL
I have loved the previous books in this series. If you haven't started reading them, do pick them up. While it is creeptastic, they are so good even if you don't like horror, you will enjoy this series. It was a long time since the last book so if you are reading these for the first time you won't struggle like I did at the beginning to remembering what had happened in the past. It did come back eventually however. Still, you may want to reread the last book before this one. The next book is set to come out later this year so we won't have as long to wait between books. That makes me so happy.
In this one the mystery twists and turns and you are often left dangling without purchase for anything solid. While this is frustrating in most novels, it makes sense here since most of our answers hide in the ghostly realms. Things slowly come together and the graveyard information interspersed into the storyline really helps the atmosphere in the book. We get our answers, but find new ones to lead us to the next book.
My biggest problems in the story came from Devlin. Oh he frustrated me in this book. I know there is more to come, but dude... stop it. I do get it was a set up for the arc in the series so it didn't overwhelm me in irritation. I also wanted more with Angus the dog we got to know. There is just a small part with him in it. I would also love to have had more information about Micah and am hoping for more dimension within the character. Still, these are small problems and I know some of it is setting me up for more goodness in the series.
I give this book 4 stars. My only real horrid complaint about this book is that it took several years to get it. :) I enjoy this series and highly recommend it to those that enjoy a good ghostly mystery.