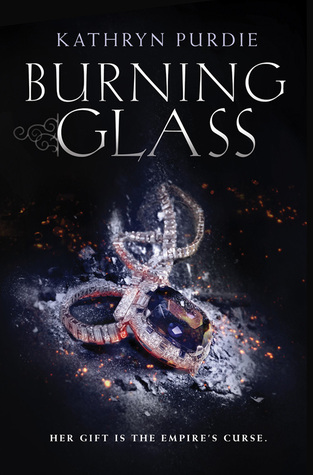 Series: Burning Glass #1
512 p.
Publisher: Katherine Tegen Books
Published: 3/1/16
Source: Edelweiss and Publisher for review
Sonya was born with the rare gift to feel what those around her feel—both physically and emotionally—a gift she's kept hidden from the empire for seventeen long years. After a reckless mistake wipes out all the other girls with similar abilities, Sonya is hauled off to the palace and forced to serve the emperor as his sovereign Auraseer.
Tasked with sensing the intentions of would-be assassins, Sonya is under constant pressure to protect the emperor. One mistake, one small failure, will cost her own life and the lives of the few people left in the world who still trust her.
But Sonya's power is untamed and reckless, her feelings easily usurped, and she sometimes can't decipher when other people's impulses end and her own begin. In a palace full of warring emotions and looming darkness, Sonya fears that the biggest danger to the empire may be herself.
As she struggles to wrangle her abilities, Sonya seeks refuge in her tenuous alliances with the volatile Emperor Valko and his idealistic younger brother, Anton, the crown prince. But when threats of revolution pit the two brothers against each other, Sonya must choose which brother to trust—and which to betray.
My thoughts:
I do love a book with an empathic heroine. I did like the beginning of this one as she was rare amongst the rare and how the world was set up. I did have problems, however, in the fact that she had NO control over her ability. I would have thought that someone surviving to 17 being this sensitive would have had developed some sort of management even if it was ineffectual in certain situations. It was a reoccurring theme in her characterization and it did bother me after a while.
I didn't hate Sonya's character. I did love that she did what she could to develop her ability to be more useful to her and others and I also enjoyed how she made the best of her situation. I also really liked how loyal she felt to those that would be hurt by any failure on her part. I did like Anton, but he became too frustrating at times and while I think his motivations were honorable, it was also annoying. So, I didn't really feel the romance in this book and things were left unanswered between the two at the end of the book.
There were also several other questions that were left unanswered that I thought were made to be important plot points. This unresolved issue bothered me but I do understand that it is part of a trilogy so I figure the answers will be forthcoming. It still bothers me because it seemed important to this point in the series and this book otherwise actually felt complete.
I give this book 3 stars. Despite the problems I had with the book, I did like the main heroine in the end and can see this series pick up after more questions are answered.