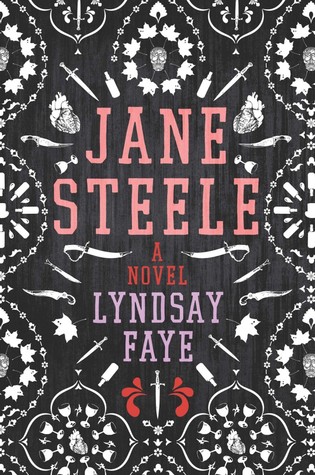 Standalone
432 p.
Published: 3/22/16
Publisher: G. P. Putnam's Sons
Source: NetGalley and publisher for review
"Reader, I murdered him."

A Gothic retelling of Jane Eyre.
Like the heroine of the novel she adores, Jane Steele suffers cruelly at the hands of her aunt and schoolmaster. And like Jane Eyre, they call her wicked - but in her case, she fears the accusation is true. When she flees, she leaves behind the corpses of her tormentors.

A fugitive navigating London's underbelly, Jane rights wrongs on behalf of the have-nots whilst avoiding the noose. Until an advertisement catches her eye. Her aunt has died and the new master at Highgate House, Mr Thornfield, seeks a governess. Anxious to know if she is Highgate's true heir, Jane takes the position and is soon caught up in the household's strange spell. When she falls in love with the mysterious Charles Thornfield, she faces a terrible dilemma: can she possess him - body, soul and secrets - and what if he discovers her murderous past?
My thoughts:
I have to admit it took me a bit to get into this book. I just didn't quite connect to Jane at first but I did love that there were passages from
Jane Eyre
in the book. I also didn't like the "said I" and "said he" instead of the I said interspersed unevenly throughout the book. Small niggles however.
By the middle of the book I became interested and invested in Jane. By the end, I totally loved the book. I'm an ending girl so the beginning where I had some problems now does not bother me in the least. I can say I loved this book and would reread it at any time.
The story line follows
Jane Eyre
in a very loose interpretation. Those that don't care for retellings might like this one as she uses the book to get through life more than the book becoming a alternative manifestation of the classic. She is also more of a survivalist than Jane Eyre who had survived by luck and circumstance. This Jane tended to make her own circumstance and protect those that she loved.
As I stated the ending was good, but odd. I think that because I'm reading the ARC it needed a bit more tweaking at the end. You go from storyline to author's note without notice. It was confusing at first but as I said... this was an ARC so take that with a salt mine.
I highly recommend this book. You do not have to have read the classic to read this and understand. This Jane goes through her own analysis of that book so you don't have worry. It is interesting to see what she picks out to emulate and what she thought were tragic mistakes on Eyre's part. Those who love historical romance with a mystery and some killing will enjoy this book. It is labeled adult but I think older YA and NA readers could get into it without problem.