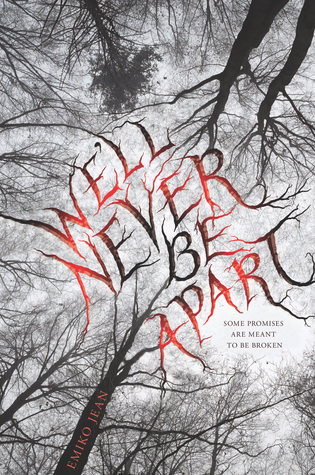 Standalone
288 p.
Publisher: HMH Books for Young Readers
Published: 11/6/15
Source: NetGalley and publisher for review
Murder.

Fire.

Revenge.

That's all seventeen-year-old Alice Monroe thinks about. Committed to a mental ward at Savage Isle, Alice is haunted by memories of the fire that killed her boyfriend, Jason. A blaze her twin sister Cellie set. But when Chase, a mysterious, charismatic patient, agrees to help her seek vengeance, Alice begins to rethink everything. Writing out the story of her troubled past in a journal, she must confront hidden truths.
Is the one person she trusts only telling her half the story? Nothing is as it seems in this edge-of-your-seat psychological thriller from the debut author Emiko Jean.
My thoughts:
I knew I was in for a twisty mystery with this book. It is very much a psychological thriller that had me guessing more than once. While things get slowly revealed the scene of what happened changes and so the characters also seem to morph before our eyes. It also deals with a young girl's psychological illness but more in a way that enhances the story rather than teaches about a condition.
A slight warning. I swear I worried over any and all animals that came into this book. There is one incident where an animal is harmed, but it isn't graphic and it does lend itself to the story. I still didn't like it but it didn't make me put the book down or dnf the book. Usually that is a subject that will get me to dnf a book quickly. Still, perhaps I will save some worry by saying again, it wasn't graphic and it was a very small part of the book, but if you are like me, it will probably linger on your palate.
I give this book 3 stars. I highly recommend it for those that like psychological twisty mysteries and always trying to outguess the author. It is a very dark book and I know that the ending will surprise you as it did me.