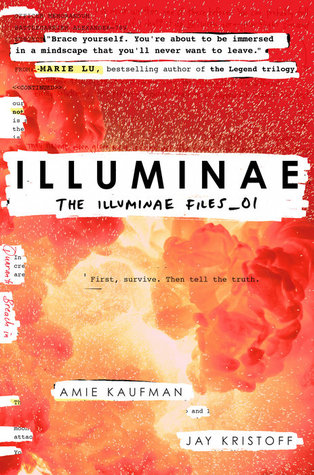 Series: The Illuminae Files #1
608 p.
Publisher: Knopf for Young Readers
Published: 10/20/15
Source: NetGalley and publisher for review
This morning, Kady thought breaking up with Ezra was the hardest thing she'd have to do.
This afternoon, her planet was invaded.
The year is 2575, and two rival megacorporations are at war over a planet that's little more than an ice-covered speck at the edge of the universe. Too bad nobody thought to warn the people living on it. With enemy fire raining down on them, Kady and Ezra—who are barely even talking to each other—are forced to fight their way onto an evacuating fleet, with an enemy warship in hot pursuit.
But their problems are just getting started. A deadly plague has broken out and is mutating, with terrifying results; the fleet's AI, which should be protecting them, may actually be their enemy; and nobody in charge will say what's really going on. As Kady hacks into a tangled web of data to find the truth, it's clear only one person can help her bring it all to light: the ex-boyfriend she swore she'd never speak to again.
Told through a fascinating dossier of hacked documents—including emails, schematics, military files, IMs, medical reports, interviews, and more—Illuminae is the first book in a heart-stopping, high-octane trilogy about lives interrupted, the price of truth, and the courage of everyday heroes.
My thoughts:
I have mixed feelings about epistolary books. I love the creativity of how it comes together, how it tells a tale, but I have a hard time connecting to the characters. It was the same in much of this book. I worried as to how I would see the book in the end, but fortunately I found myself fully engaged toward the end of the book and I also didn't want to put it down.
The mystery slowly reveals itself through a lot of visuals and dossier type of storytelling. We follow two characters, Ezra and Kady but Kady seems to be the biggest focus in this book. We find out how they came aboard these ships and what they are facing now. Without me giving too much away, I will say that if sci-fi has taught me anything (and this book is no exception) is that you should be nice to your AI and not give it too much power over you. Future people reading this review should see this as a warning... or as an I told you so. ;)
I give this book 4 stars. It is one that really took me by surprise and had a twist in the end I didn't see coming. Although it did take most of the tale for me to get into it, once I was there I didn't want to leave the world and wanted to know more. While there isn't a cliffie at all, there is space (heh) for another book. I look forward to getting into that one as well. I think this book may have changed my mind about epistolary books. I also think this story would work well as a multimedia book.
Bloggy PS. You can goto
Illuminae.com
to get excerpts, vids and little details about this book. Here is one of the vids: