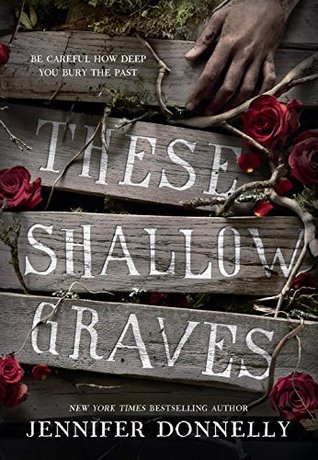 496 p.
Publisher: Random House Delacorte
Published: 10/27/15
Source: NetGalley and publisher for review
Set in gilded age New York, These Shallow Graves follows the story of Josephine Montfort, an American aristocrat. Jo lives a life of old-money ease. Not much is expected of her other than to look good and marry well. But when her father dies due to an accidental gunshot, the gilding on Jo's world starts to tarnish. With the help of a handsome and brash reporter, and a young medical student who moonlights in the city morgue, Jo uncovers the truth behind her father's death and learns that if you're going to bury the past, you'd better bury it deep.
Josephine Montfort is from one of New York's oldest, most respected, and wealthiest families. Like most well-off girls of the Gilded Age, her future looks set - after a finishing school education, she will be favourably married off to a handsome gentleman, after which she'll want for nothing. But Jo has other dreams and desires that make her long for a very different kind of future. She wants a more meaningful and exciting life: she wants to be an investigative journalist like her heroine Nellie Bly. But when Jo's father is found dead in his study after an alleged accident, her life becomes far more exciting than even Jo would wish. Unable to accept that her father could have been so careless, she begins to investigate his death with the help of a young reporter, Eddie Gallagher. It quickly becomes clear he was murdered, and in their race against time to discover the culprit and his motive, Jo and Eddie find themselves not only battling dark characters on the violent and gritty streets of New York, but also their growing feelings for each other.
My thoughts:
This isn't the gothic novel I expected from the blurb or the cover. There are dark aspect to this book, but really it is a historical mystery fiction. It really is a character book and while I loved Josephine's growth in the book, I did have a few problems with it. Really only one. She was terribly naive. Now, I did expect someone who is very sheltered to be naive, but she supposedly wanted to become a bluestocking and read accounts from Nellie Bly and had several papers snuck in by trusted servants. So, when she didn't know what a madam was or what she did with the girls, it did annoy me a bit. Not because she didn't catch on right away but because it seemed labored upon more than once. Even after it was fully explained to her she still had another incident where she was more naive than she should have been.
I also didn't like Eddie. He was fine at first but when he wanted her to give up her life for his, I thought it was very selfish. He knew what she would be giving up and he also knew she didn't quite have a clue. So, I found him very self-centered. This was not the only reason I didn't like him and toward the end I wanted someone else for Josephine. I hope that doesn't give too much away since the romance was secondary to the mystery at hand.
Now the mystery was done rather well. I really enjoyed how that played out and how it twisted within the story. In fact, I did guess one aspect of the mystery but not the others. I also didn't mind the Scooby Doo ending where the bad guy explains why they did it. There was even a "if it wasn't for you... (read crazy kids)" in there. LOL I did find that entertaining.
I give this book 3 stars. I did like Jo's growth and the mystery within the book. I enjoyed the historical references as it pertained to women at that time. I also loved the secondary character of Fay and how her mystery came about. I did have some problems with the romance but those who are reading the book for the mystery and history will enjoy this story a lot.