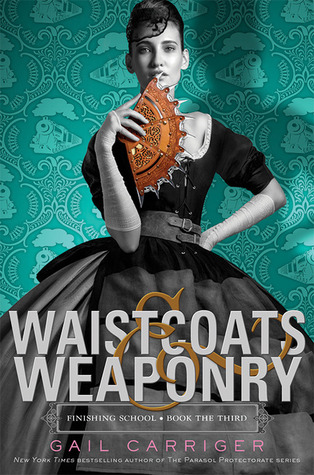 Series: Finishing School #3
304 p.
Publisher: Little, Brown Books for Young Readers
Published: 11/4/14
Source: NetGalley and Publisher for review
Class is back in session...Sophronia continues her second year at finishing school in style--with a steel-bladed fan secreted in the folds of her ball gown, of course. Such a fashionable choice of weapon comes in handy when Sophronia, her best friend Dimity, sweet sootie Soap, and the charming Lord Felix Mersey stowaway on a train to return their classmate Sidheag to her werewolf pack in Scotland. No one suspected what--or who--they would find aboard that suspiciously empty train. Sophronia uncovers a plot that threatens to throw all of London into chaos and she must decide where her loyalties lie, once and for all.
Gather your poison, steel tipped quill, and the rest of your school supplies and join Mademoiselle Geraldine's proper young killing machines in the third rousing installment in the New York Times bestselling Finishing School Series by steampunk author, Gail Carriger.
My thoughts:
Another great installment to this series. Although the bulk of the mystery happened at the last part of the book, the action was throughout as well as the tongue in cheek world in which Sophronia resides. There is a romantic triangle that has built even more within this series. In this one you might root for one more than the other but you should have no idea who she ends up with in the end. There is this world to consider and not just what the heart wants. Plus, we don't know a lot about both suiters and what might be best for either one in the end as well. I hope we get to know both even more as the series progresses.
In this book I think the characters outshine the mystery and that may not be good for a mystery, but it is good for the series. This is a series where I not only love the main character, but the secondary characters. If you love great secondary characters, you need to read this one. They even have a mechanical dog with a great personality!
I give this latest installment 4 stars. I recommend it to those that love tongue in cheek worldbuilding as well as those that love great characters. YA mystery and steampunk lovers should really pick up this series.