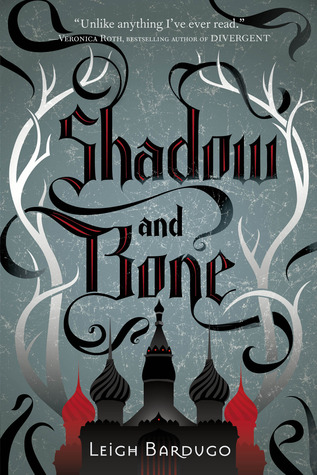 Series: The Grisha #1
Narrator: Lauren Fortgang
Unabridged
8 hrs. 55 min.
Available Now
Source: tbr pile
Surrounded by enemies, the once-great nation of Ravka has been torn in two by the Shadow Fold, a swath of near impenetrable darkness crawling with monsters who feast on human flesh. Now its fate may rest on the shoulders of one lonely refugee.
Alina Starkov has never been good at anything. But when her regiment is attacked on the Fold and her best friend is brutally injured, Alina reveals a dormant power that saves her life—a power that could be the key to setting her war-ravaged country free. Wrenched from everything she knows, Alina is whisked away to the royal court to be trained as a member of the Grisha, the magical elite led by the mysterious Darkling.
Yet nothing in this lavish world is what it seems. With darkness looming and an entire kingdom depending on her untamed power, Alina will have to confront the secrets of the Grisha… and the secrets of her heart.
My thoughts:
I kept hearing how wonderful this story was and I was wanting to read it. However, I was able to find the audio by Lauren Fortgang whom I've never hear narrate but I have been told she was wonderful. That was correct. Lauren's voice is perfect as Alina and I loved her pronunciation of all the Russian words. It helped me to easily slip into this world. One I was reluctant to leave by the end of the story.
I do warn those that hate love triangles... there is one brewing within these pages. However, it isn't one that makes your eyes roll, but makes sense. There is a clear winner and one that will make you swoon. However, the other one won't leave you willingly so you know there is more to that story. You will also love the villain in the story. His characterization is such that you are never certain of his motivations even when you feel that he is totally figured out. I love that in a villain and it makes the tension in the story so much better.
Oh there is so much I want to talk about with the book. It was one that was hard to put down (or turn off in this case) but I don't want to spoil it for anyone. If you are looking for a fantasy book that isn't too heavy handed with great worldbuilding, this one would be great to start. I recommend the audio especially for this book because you can hear the words as they were intended and not mangle them in your head (I know I do that! LOL). I give this audio 5 stars. I really enjoyed my time here and I can't wait to listen to the next one. In fact, I do hope the Lauren voices all 3 books in the trilogy.