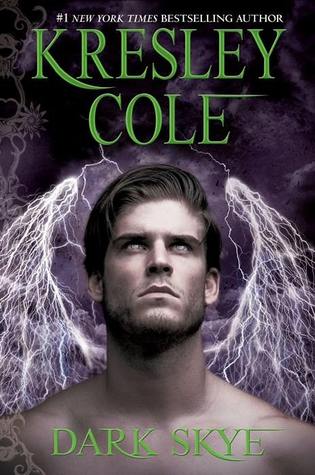 Series: Immortals After Dark #14
384p.
Publisher: Gallery Books
Available Now
Source: From publisher for review
Eternal Obsession...

As a boy, Thronos, Lord of Skye Hall, loved Lanthe, a mischievous Sorceri girl who made him question everything about his Vrekener clan. But when the two got caught in the middle of their families' war, tragedy struck, leaving Thronos and Lanthe bitter enemies. Though centuries have passed, nothing can cool his seething need for the beautiful enchantress who scarred his body - and left an even deeper impression on his soul.
Endless Yearning...

Lanthe, a once-formidable sorceress struggling to reclaim her gifts, searches for love and acceptance with all the wrong immortal suitors. But she's never forgotten Thronos, the magnificent silver-eyed boy who protected her until she was ripped from the shelter of his arms. One harrowing night changed everything between them. Now he's a notorious warlord with a blood vendetta against Lanthe, hunting her relentlessly.
Can the heat of desire burn brighter than vengeance?

With their families locked in conflict and battles raging all around them, will Thronos and Lanthe succumb to the brutal chaos that threatens everything they cherish? Or will the fragile bond they formed so long ago spark a passion strong enough to withstand even the darkest doubts?
My thoughts:
I have read a few in this series and I have enjoyed those that I read. You can read them as a standalone as the main couple take the lead in the story. There is a story arc running through the series but you don't feel like you have no clue as to what is going on. The information is laid out so you don't feel lost. So if you want to try a book in the series, jump in. Don't be afraid. :)
I have to admit at the beginning I wasn't sure if I would end up liking Thronos. He was self-righteous and misogynistic. His world was black and white and he wanted Lanthe to change her ways to fit in this world. That alone would have made me go running but tragedies on both sides also added to their list of wrongdoings which led them to believe the other was enemy.
While both go through transformations the biggest was Thronos. I have no doubt you will feel as I did that he transforms himself into a swoon-worthy male. Lanthe is no slouch in the characterization area as I really did like her character. She knew when to compromise and more importantly, in this case, when not to compromise. She refused to be slut-shamed and gave as good as she got. She also was intelligent and brave. She learns to have more faith in herself. She also learned to trust.
I give this book 4 1/2 stars. I really enjoyed my time with this couple and actually wished the book was much longer. If you enjoy PNR I do suggest this series and especially this book. I do plan on going back to the first book and enjoy them all.