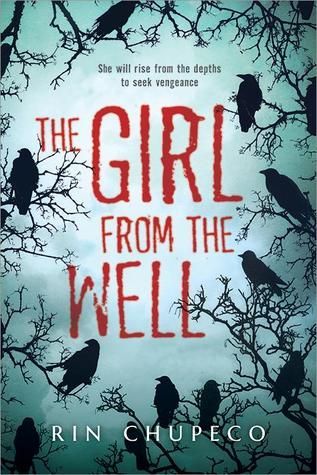 Standalone
272p.
Publisher: Sourcebooks Fire
Published: 8/5/14
Source: NetGalley and Publisher for review
You may think me biased, being murdered myself. But my state of being has nothing to do with the curiosity toward my own species, if we can be called such. We do not go gentle, as your poet encourages, into that good night.

A dead girl walks the streets.
She hunts murderers. Child killers, much like the man who threw her body down a well three hundred years ago.
And when a strange boy bearing stranger tattoos moves into the neighborhood so, she discovers, does something else. And soon both will be drawn into the world of eerie doll rituals and dark Shinto exorcisms that will take them from American suburbia to the remote valleys and shrines of Aomori, Japan.
Because the boy has a terrifying secret - one that would just kill to get out.
My thoughts:
Total confession here: I really like dark books, but I'm a total wimp when it comes to horror. For some reason I can handle it better in books, but this one was very creepy and even made me want to read this book in the light.
I really enjoyed the different culture and mythology in this one. The ghosts in this story are like humans in terms of good and evil. They choose their nature as we do when we are alive. For the ghosts, however, their horror they extend toward others is shown on how they look to the outer world. Humans are able to hide their evil much better.
We get an unusual narrative within these pages. We follow Okiku the ghost from the well. The narrative can be odd at times since she is interested in the living but totally detached. In this way we also become interested in the characters of the book but do not become attached to them. This is deliberate and I liked how different it felt. Usually I have to have some sort of attachment to characters but because this was purposeful, I didn't have problems with it at all.
I give this horror book 4 stars. If you want something unusual and different do try this book. If you are a fan of horror movies like
The Ring
, then I think this book is for you.
Author Bio:
Despite uncanny resemblances to Japanese revenants, Rin Chupeco has always maintained her sense of humor. Raised in Manila, Philippines, she keeps four pets: a dog, two birds, and a husband. She's been a technical writer and travel blogger, but now makes things up for a living. The Girl from the Well is her debut novel. Connect with Rin at
www.rinchupeco.com
.