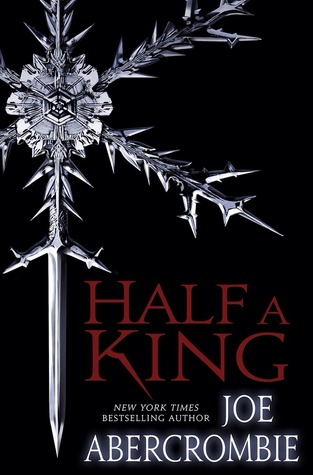 Series: Shattered Sea #1
352p.
Publisher: Del Ray
Published: July 15, 14
Source: NetGalley and publisher for review
"I swore an oath to avenge the death of my father. I may be half a man, but I swore a whole oath."

Prince Yarvi has vowed to regain a throne he never wanted. But first he must survive cruelty, chains, and the bitter waters of the Shattered Sea. And he must do it all with only one good hand.
The deceived will become the deceiver.
Born a weakling in the eyes of his father, Yarvi is alone in a world where a strong arm and a cold heart rule. He cannot grip a shield or swing an axe, so he must sharpen his mind to a deadly edge.
The betrayed will become the betrayer.
Gathering a strange fellowship of the outcast and the lost, he finds they can do more to help him become the man he needs to be than any court of nobles could.
Will the usurped become the usurper?
But even with loyal friends at his side, Yarvi finds his path may end as it began—in twists, and traps, and tragedy.
My thoughts:
Joe Abercrombie is on my must try author list so when this came up for review I gladly said yes. I'm not entirely sure this is YA but the protagonist is about that age, but most of the players are older. It can easily be read by the YA/NA crowd. It has violence in it, but that is expected when kingdoms clash.
I enjoyed the worldbuilding within the story. You also have some pretty interesting characters. You follow Yarvi from the beginning to the end. It is his story in how he becomes a crippled son, minster, king and slave. You follow his growth through his adventure and how he finds himself. While I did like Yarvi and rooted for him, sometimes I just wanted to shake him and tell him that yea.. you have a deformed hand... get over it! It made sense at the beginning but toward the end when you see him do incredible things you just wanted him to move on from that worry. He does achieve it, but I just wanted to see that sooner. You also get some pretty good secondary characters and I have to admit, as much as I liked Yarvi, I liked his companions more. Not everyone survives the adventure, but it is an interesting journey. The end has a huge twist I didn't see coming but I'm not sure how I feel about it. I like it but I think I just need more. Good thing this is a series. :) I will say that questions I had about Yarvi and his immediate journey were answered but I had a few more that were mentioned but not expounded upon in the book. I have no doubt those questions will be answered in the coming books.
I give this book 4 stars. I enjoyed my time here and I recommend it to those that want a fantasy that isn't too heavy handed.