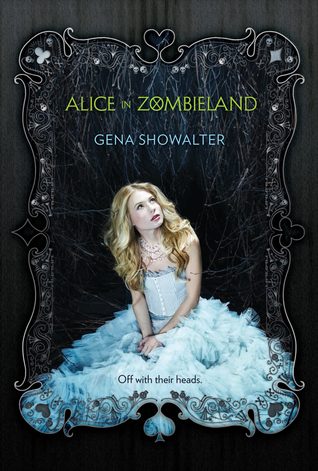 Series: White Rabbit Chronicles #1
404p.
Publisher: Harlequin Teen
Available Now
Source: TBR pile (pressie!)
She won't rest until she's sent every walking corpse back to its grave. Forever.
Had anyone told Alice Bell that her entire life would change course between one heartbeat and the next, she would have laughed. From blissful to tragic, innocent to ruined? Please. But that's all it took. One heartbeat. A blink, a breath, a second, and everything she knew and loved was gone.
Her father was right. The monsters are real…
To avenge her family, Ali must learn to fight the undead. To survive, she must learn to trust the baddest of the bad boys, Cole Holland. But Cole has secrets of his own, and if Ali isn't careful, those secrets might just prove to be more dangerous than the zombies…



"I wish I could go back and do a thousand things differently.
I'd tell my sister no.
I'd never beg my mother to talk to my dad.
I'd zip my lips and swallow those hateful words.
Or, barring all of that, I'd hug my sister, my mom and my dad one last time.
I'd tell them I love them.
I wish... Yeah, I wish."
My thoughts:
Zombies?
Alice in Wonderland
retelling? Okay, where do I sign up?
Yes, can you tell I wanted to get to this book? I already knew that there would be some sad moments in the book and yes, there were but not enough to deter me from wanting to read it. The book's characters are interesting. The main character, Alice, is one who came from a sheltered background, had a horrific experience that turned her world on it's ear and still came out fighting. I enjoyed that and the fact that it could have made her quite timid but she learned to kick arse metaphorically and literally. Cole could have been the bad boy I hated but just barely skated to the good side for me. I can see why so many girls swoon for him but his possessiveness almost made me not like him. The fact that he truly respects Ali is what swayed me toward liking his character.
As far a the retelling... it is very light on that aspect. So, those who don't like retellings might enjoy this one while those that do and expect one might be disappointed. I wasn't in the least and enjoyed how she twisted some small aspect of
Alice in Wonderland
to fit the story. I did enjoy the worldbuilding even though I did have some questions left that were specific to this world. However Ali is learning as we do so I do think some of those answers will be forthcoming.
I give this book 4 stars. I now need the second book and... of course the 3rd. :) I enjoyed my time in this world of zombies and am curious to the direction she will take these characters. I recommend it to those that like YA and a simple book about a girl fighting zombies. :)