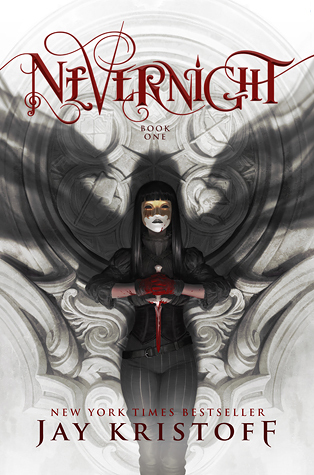 Series: The Nevernight Chronicle #1
448 p.
Publisher: Thomas Dunne Books
Published: 8/9/16
Source: From NetGalley and publisher for review
In a land where three suns almost never set, a fledgling killer joins a school of assassins, seeking vengeance against the powers who destroyed her family.
Daughter of an executed traitor, Mia Corvere is barely able to escape her father's failed rebellion with her life. Alone and friendless, she hides in a city built from the bones of a dead god, hunted by the Senate and her father's former comrades. But her gift for speaking with the shadows leads her to the door of a retired killer, and a future she never imagined.
Now, Mia is apprenticed to the deadliest flock of assassins in the entire Republic—the Red Church. If she bests her fellow students in contests of steel, poison and the subtle arts, she'll be inducted among the Blades of the Lady of Blessed Murder, and one step closer to the vengeance she desires. But a killer is loose within the Church's halls, the bloody secrets of Mia's past return to haunt her, and a plot to bring down the entire congregation is unfolding in the shadows she so loves.
Will she even survive to initiation, let alone have her revenge?
My thoughts:
I was surprised with this book in terms of labeling it as YA. I can see why it is labeled YA since the characters were so young. However, it has sex and violence in the manner that most adult books carry. It would probably be fine for older teens but parents might want to read it first before handing it to a younger teen.
I also have to admit that for most of the book I would have rated it lower than I have. I think the reason was the footnotes. I both hated and loved them. I hated that I didn't always have the reference right in front of me to associate what it was talking about but I also loved the extra information which I usually crave. Not sure what could be done differently but, for me, it made the flow of the story a bit choppy and by the end when the footnotes were less, it flowed much easier.
The worldbuilding was very interesting and while a lot of questions were answered a few were left lingering but nothing that would constitute a cliffie. There was a twist that I think most will figure out and it is a twist that Mia has not figured out yet. That, I believe, will be forthcoming and it makes sense not to add it in this volume.
I'd say that a good portion of the beginning was a solid 3 1/2 stars for how it flowed, but I did like the ending so I'll push it to 4 stars. I actually consider this an adult book and not YA, but it does have a lot of YA elements to it, especially the way the characters interacted with each other on a relationship level (not the assassin level). I will be looking forward to the next book in this series.