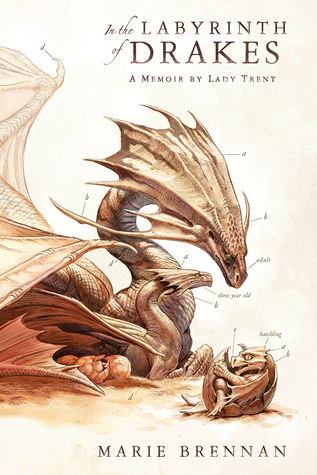 Series: Memoir of Lady Trent #4
352 p.
Publisher: Tor Books
Published: 4/5/16
Source: From publisher for review
The thrilling new book in the acclaimed fantasy series from Marie Brennan, as the glamorous Lady Trent takes her adventurous explorations to the deserts of Akhia.
Even those who take no interest in the field of dragon naturalism have heard of Lady Trent's expedition to the inhospitable deserts of Akhia. Her discoveries there are the stuff of romantic legend, catapulting her from scholarly obscurity to worldwide fame. The details of her personal life during that time are hardly less private, having provided fodder for gossips in several countries.
As is so often the case in the career of this illustrious woman, the public story is far from complete. In this, the fourth volume of her memoirs, Lady Trent relates how she acquired her position with the Royal Scirling Army; how foreign saboteurs imperiled both her work and her well-being; and how her determined pursuit of knowledge took her into the deepest reaches of the Labyrinth of Drakes, where the chance action of a dragon set the stage for her greatest achievement yet.
My thoughts:
I have loved these alternate historical books about dragons from the first book. While these books are in audio format, this is one series I would suggest you do NOT go audio. Well, you can, but do make sure you have the illustrations to look at. It is the illustrations that have brought every book to life for me. This one was no exception.
I got involved with this one a bit quicker than the rest. Often it takes me a minute to really get into a memoir format. In the books she is recounting her life as a dragon naturalist (if you aren't familiar with the books) but this one is quite personal as well. I think it became more personal much quicker than the others so it was also easier for me to slip into the world.
We actually get a touch of romance in this one and I was thrilled. I have wanted this pairing for a while now but I don't want to reveal too much. If you have read the other books I am suspecting you have guessed at the couple I speak, if not, read them... you'll see. ;)
I give this book 4 stars. Check out the illustrator Todd Lockwood (you can see the reviews and artwork of his in earlier posts
HERE
) which I have no doubt will draw people in to this alternate universe where we share our world with dragons.