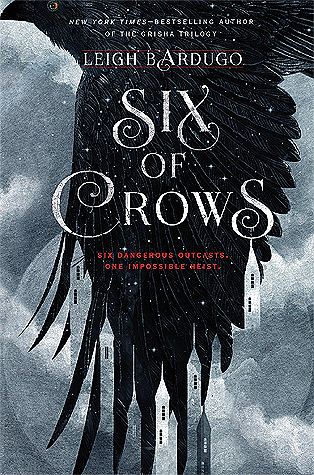 Series: Six of Crows #1
465 p.
Published: 9/29/15
Publisher: Henry Holt and Co.
Source: Library
Ketterdam: a bustling hub of international trade where anything can be had for the right price—and no one knows that better than criminal prodigy Kaz Brekker. Kaz is offered a chance at a deadly heist that could make him rich beyond his wildest dreams. But he can't pull it off alone...
A convict with a thirst for revenge.
A sharpshooter who can't walk away from a wager.
A runaway with a privileged past.
A spy known as the Wraith.
A Heartrender using her magic to survive the slums.
A thief with a gift for unlikely escapes.

Kaz's crew are the only ones who might stand between the world and destruction—if they don't kill each other first.
My thoughts:
I've only read the first book in the Grisha series by Leigh Bardugo and I was thinking for some reason it was a different fantasy. It is a first book, but set in the Grisha world of the first series. Not necessary to know this, but I do think it helps with the worldbuilding. I now want to go back and read or listen to the other two in the first trilogy.
The book seemed to be slow moving at first. I did like the characters and the romance was slow building. It took me most of the book to really get into it and by the end I was captivated. It also works the multi-POV well and you really fall into the characters even more this way. The action was heart stopping and the ending action was so twisted it was good. Yes, I'm an ending girl and this book gave me a great ending... except. *sigh* Well, it wasn't exactly a cliffie ending but you have one last thing that happens before the end that does leave you hanging. You can safely say that I need that next book
I give this book 4 stars. While the beginning was a bit slow for me, I really enjoyed the characters and the fantasy world. I recommend it to those that enjoy fantasy.