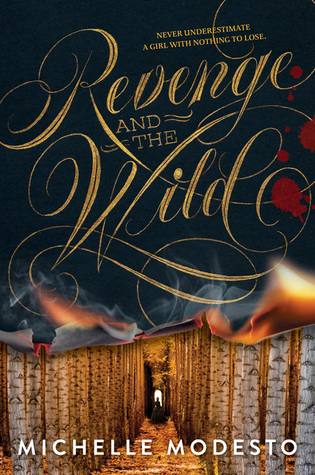 Standalone
384 p.
Publisher: Balzer + Bray
Published: 2/2/16
Source: Edelweiss and Publisher for review
The two-bit town of Rogue City is a lawless place, full of dark magic and saloon brawls, monsters and six-shooters. But it's perfect for seventeen-year-old Westie, the notorious adopted daughter of local inventor Nigel Butler.
Westie was only a child when she lost her arm and her family to cannibals on the wagon trail. Nine years later, Westie may seem fearsome with her foul-mouthed tough exterior and the powerful mechanical arm built for her by Nigel, but the memory of her past still haunts her. She's determined to make the killers pay for their crimes—and there's nothing to stop her except her own reckless ways.
But Westie's search ceases when a wealthy family comes to town looking to invest in Nigel's latest invention, a machine that can harvest magic from gold—which Rogue City desperately needs as the magic wards that surround the city start to fail. There's only one problem: the investors look exactly like the family who murdered Westie's kin. With the help of Nigel's handsome but scarred young assistant, Alistair, Westie sets out to prove their guilt. But if she's not careful, her desire for revenge could cost her the family she has now.
My thoughts:
I had fun with this mash up of western, magic, paranormal, and steampunk. It seems like a lot to thrown in together but here it works. In this one we follow Westie who is a wild girl that lost her family to cannibals. She has a new home now with wildly different kind of people and a mechanical arm. She also has a mouth on her so you know I liked this character. She does cause a lot of problems because she is impulsive, but at least she does try to take responsibility for what damage she wrought.
The mystery was interesting but I didn't like how her new family reacted to some revelations on her part. I don't want to go into what they were because it would be too spoilerish but it just didn't quite jive with me in how otherwise supportive her family was about everything else. I did like the romance between Westie and Alistair. I loved Alley and how he helped Westie and how he loved her. There was a aw moment for them in there for romance lovers. ;) The ending was not as surprising as I think it meant to be but was still enjoyable. I didn't love how it ended but I didn't hate it either. There were also small things that I thought were important which were left out. Like who was spying on Westie and Alistair? I only mention this one specifically since it really doesn't give anything away. This was mentioned as if it was important but yet just didn't give us any clues or answers to what was going on. There was also another incident which I cannot go into but had the same problems. Nothing big but it bothered me a bit. I'm guessing it was the same person, but no answers for those small niggles.
I give this book 3 1/2 stars. I did enjoy it and I liked Westie. I think this could have been developed into a series and I think it would have been even better as such. I think then not having small questions go unanswered (not the ones I mentioned, but a few others... small but possibly important) wouldn't have bothered me as much. I do recommend it to those that love mash ups of genres with a good dose of fun.