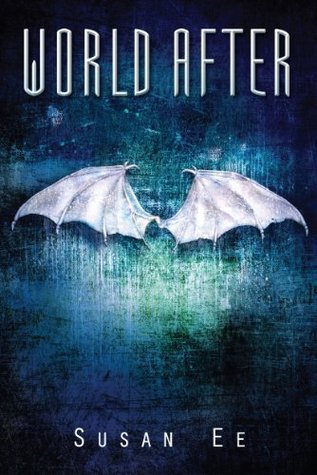 Series: Penryn and the End of Days #2
320 p.
Published: 11/19/13
Publisher: Skyscape
Source: Library
In this sequel to the bestselling fantasy thriller, Angelfall, the survivors of the angel apocalypse begin to scrape back together what's left of the modern world.
When a group of people capture Penryn's sister Paige, thinking she's a monster, the situation ends in a massacre. Paige disappears. Humans are terrified. Mom is heartbroken.
Penryn drives through the streets of San Francisco looking for Paige. Why are the streets so empty? Where is everybody? Her search leads her into the heart of the angels' secret plans where she catches a glimpse of their motivations, and learns the horrifying extent to which the angels are willing to go.
Meanwhile, Raffe hunts for his wings. Without them, he can't rejoin the angels, can't take his rightful place as one of their leaders. When faced with recapturing his wings or helping Penryn survive, which will he choose?
My thoughts:
I was hooked after the first book and I had to know what happened next. The ending of the last book was a killer and I recommend you have this one available after that book. I would have loved to have these together.
This book starts where the last book ends. So, you know you are in for a ride from the beginning. I was curious to where this book would lead us especially with her sister Paige. I won't go into why but let me just say it becomes a pinnacle to the story and a turning point for Penryn. The relationship between Raffe and Penryn is basically put on hold because of the events at the end of book one (you'll have to read that one to find out what *evil laugh*) so there isn't much romance but there is some. The relationship issues aren't even close to being resolved in this book and so we look forward to the next. Not just with this relationship but with the rest of the group as well. I'm most impressed with the change in attitude of Penryn with her mom as she discovers more about what she has done to keep them as safe as possible. I think there is more to that story as well.
The ending is a cliffie but not as harsh of a one as the first book. Luckily the last book is out, but unfortunately I'll have to wait a bit because I live in a reading town and that book is already borrowed. How dare they! LOL I will hopefully be reading it soon.
I give this book 4 stars and I think I did like this one more than the first. I think those that don't enjoy angel books but want to will like this series. I also recommend it to those that enjoy dystopian YA.