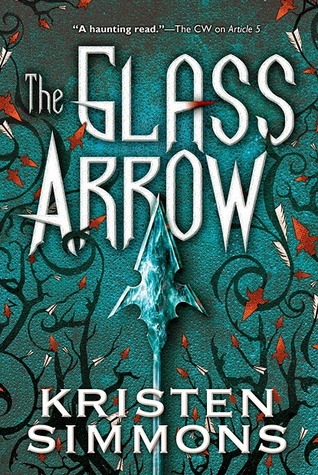 Standalone
Narrator: Soneela Nankani
12 hrs. 4 min.
Unabridged
Publisher: Recorded Books
Published: 2/10/15
Source: LibraryThing Early Reviewers Program
"The Handmaid's Tale" meets "Blood Red Road" in Glass Arrow, the story of Aya, who lives with a small group of women on the run from the men who hunt them, men who want to auction off breeding rights to the highest bidder.
In a world where females are scarce and are hunted, then bought and sold at market for their breeding rights, 15-year old Aya has learned how to hide. With a ragtag bunch of other women and girls, she has successfully avoided capture and eked out a nomadic but free existence in the mountains. But when Aya's luck runs out and she's caught by a group of businessmen on a hunting expedition, fighting to survive takes on a whole new meaning.
My thoughts:
Oh a dystopian in a world where women are used, hunted, and suppressed within a patriarchal society. Usually these things give you a strong female protagonist so I'm usually all for this type of story. Plus, I've been wanting to try a book by this author so when the opportunity arose I was glad I was chosen.
The beginning of the story really sets us up for the end of the story. We learn a lot about Aya and what kind of person she is and wants to be in this world. Her motivations are her family, both made and given and the enemy is the world she tries to avoid at all costs. As a virgin wild female, she knows that being owned is the worst thing that can happen to her.
Her fears are realized and the worst happens. Much of the beginning is about how she survives and the introduction to a few important characters Kiran and Brax. As soon as Brax was introduced my anxiety rose and I did find out what happens to him by checking out other reviews before I listened on. (HIGHLIGHT for spoiler)
Brax is a wolf who she saves and befriends. Yes, he does die (which made it hard to listen to most of the book) but it doesn't happen until the end and it was a decent death. Yea, I almost didn't listen to the rest of the book because of the spoiler but I was glad I listened to the rest of the book.
I know some want to know that deet and some don't. It is a huge spoiler for that character.
While I did love the characters, some of the worldbuilding for me was a bit inconsistent and also a bit unbelievable. Dissecting the world will cause problems within the believability of the story, however, if you can try to ignore some of the discrepancies the characters do move the story along.
I did love Soneela Nankani's narration. There is a part where Kiran pronounces his words differently than what Aya is used to hearing and Soneela does a perfect job with his accent. I think hearing it really brings you into the story.
I give this book 3 1/2 stars. Despite the worldbuilding problems and the spoiler... I did enjoy the tale. I am glad this is a standalone and it works well that way. I recommend it to those that enjoy YA dystopians.