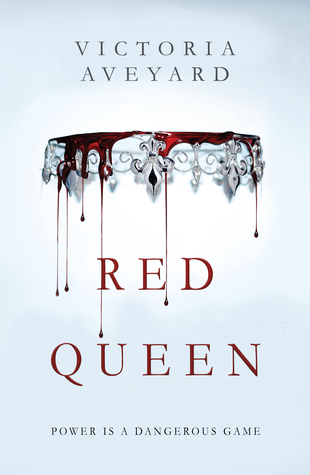 Series: Red Queen Trilogy #1
320 p.
Publisher: Orion
Published: 2/10/15
Source: Edelweiss and Publisher for review
The poverty stricken Reds are commoners, living under the rule of the Silvers, elite warriors with god-like powers.
To Mare Barrow, a 17-year-old Red girl from The Stilts, it looks like nothing will ever change.
Mare finds herself working in the Silver Palace, at the centre of those she hates the most. She quickly discovers that, despite her red blood, she possesses a deadly power of her own. One that threatens to destroy Silver control.
But power is a dangerous game. And in this world divided by blood, who will win?
My thoughts:
This story is a dystopian fantasy which the strong rule and the perceived weak become the enslaved masses who are supposed to be grateful for every crumb they are allowed to get. There is an x-men vibe to the ruling class, the Silvers who bleed silver and have elemental powers. The reds beed red and have no elemental powers. They even have class warfare within the Silvers in which the more powerful rule the less powerful. Alliances made and won also increase their dominion over others.
While this kept me engaged, I did have a few problems with the execution. While I really liked Mare, the heroine, and rooted for her, I had a problem with her being so easily manipulated. I do get that she is inexperienced and that even the most attentive person can fall to manipulation, I would just like a story where on occasion the heroine was one step ahead... even if it wasn't exactly to plan. There were times when I wanted to yell at her about her naïveté. The other problem stemmed from the romance. Those that hate love triangles be warned. There is more than a triangle involved here and it isn't resolved by the end. However, it really didn't bother me so much to take me out of the story. Perhaps it is because I didn't really feel strongly in any direction the book pulled you. I feel that the romance may play a bigger part as the trilogy progresses.
I give this book 3 stars. While I was interested in how things were solved and I was pleasantly surprised in the end, I still had a few problems with the storyline. It wasn't enough to ruin the book for me and I suspect that many of these problems will be solved by the end of the trilogy. I recommend it to those that enjoy YA dystopians and fantasy.