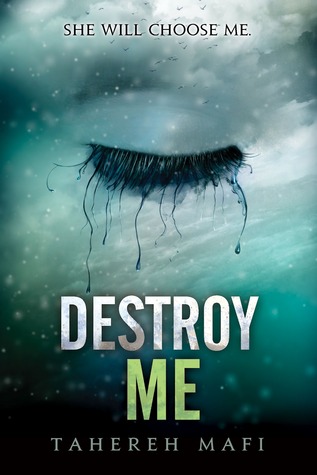 Series: Shatter Me #1.5
109 p.
Publisher: Harper
Published: 10/2/12
Source: Library
$2.99 at Amazon (Affiliate Link)
Perfect for the fans of Shatter Me who are desperately awaiting the release of Unravel Me, this novella-length digital original will bridge the gap between these two novels from the perspective of the villain we all love to hate, Warner, the ruthless leader of Sector 45.
In Tahereh Mafi's Shatter Me, Juliette escaped from The Reestablishment by seducing Warner—and then putting a bullet in his shoulder. But as she'll learn in Destroy Me, Warner is not that easy to get rid of...
Back at the base and recovering from his near-fatal wound, Warner must do everything in his power to keep his soldiers in check and suppress any mention of a rebellion in the sector. Still as obsessed with Juliette as ever, his first priority is to find her, bring her back, and dispose of Adam and Kenji, the two traitors who helped her escape. But when Warner's father, The Supreme Commander of The Reestablishment, arrives to correct his son's mistakes, it's clear that he has much different plans for Juliette. Plans Warner simply cannot allow.
My thoughts:
I've been wanting to do a little catching up so I decided to get back into this series since my library is carrying the next audiobook. I had heard to also pick up the novellas as well and I was happy to see my library also carried this novella.
This is where we get to know Warner. It had been a while since I read Shatter Me so it took me a bit to remember which one Warner was but it quickly came back. In this one, I must warn you, the guy you hated in the first one becomes human. He becomes human through Juliette's diary and he falls through her emotions which triggers his empathy. This may spell trouble for those that hate love triangles, but nothing has happened yet and this is just a look into Warner and how his motives change.
I do recommend this short to go with the rest of the series since I have a feeling Warner is going to play a bigger part than we thought. I am curious to see where it goes next. I give this novella 4 stars.
📖