Oh this one looks interesting and the worldbuilding here sounds like something I would enjoy.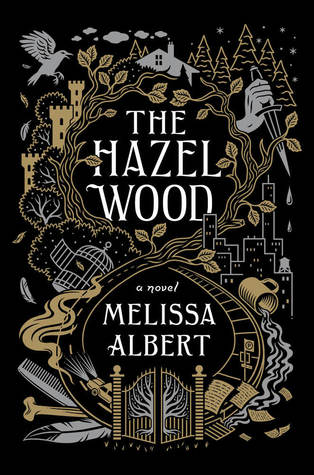 The Hazel Wood
by Melissa Albert
368 p.
Publisher: Flatiron Books
Published: 1/30/18
Seventeen-year-old Alice and her mother have spent most of Alice's life on the road, always a step ahead of the uncanny bad luck biting at their heels. But when Alice's grandmother, the reclusive author of a cult-classic book of pitch-dark fairy tales, dies alone on her estate, the Hazel Wood, Alice learns how bad her luck can really get: Her mother is stolen away―by a figure who claims to come from the Hinterland, the cruel supernatural world where her grandmother's stories are set. Alice's only lead is the message her mother left behind: "Stay away from the Hazel Wood."
Alice has long steered clear of her grandmother's cultish fans. But now she has no choice but to ally with classmate Ellery Finch, a Hinterland superfan who may have his own reasons for wanting to help her. To retrieve her mother, Alice must venture first to the Hazel Wood, then into the world where her grandmother's tales began―and where she might find out how her own story went so wrong.
Anne Rice's The Mummy was actually the first Rice book that I read (yep before her vampire books). LOVED it and was so sad that she never continued it even though she said she planned on it. Now her son is involved and I can't wait to see what happens next. I may have to do a reread it was so long ago.
The Passion of Cleopatra
by Anne Rice and Christopher Rice
Series: Ramses the Damned #2
416 p.
Publisher: Anchor
Published: 11/21/17
Ramses the Great, former pharaoh of Egypt, is reawakened by the elixir of life in Edwardian England. Now immortal with his bride-to-be, he is swept up in a fierce and deadly battle of wills and psyches against the once-great Queen Cleopatra. Ramses has reawakened Cleopatra with the same perilous elixir whose unworldly force brings the dead back to life. But as these ancient rulers defy one another in their quest to understand the powers of the strange elixir, they are haunted by a mysterious presence even older and more powerful than they, a figure drawn forth from the mists of history who possesses spectacular magical potions and tonics eight millennia old. This is a figure who ruled over an ancient kingdom stretching from the once-fertile earth of the Sahara to the far corners of the world, a queen with a supreme knowledge of the deepest origins of the elixir of life. She may be the only one who can make known to Ramses and Cleopatra the key to their immortality—and the secrets of the miraculous, unknowable, endless expanse of the universe.
So what are you wishing for this week?
📚