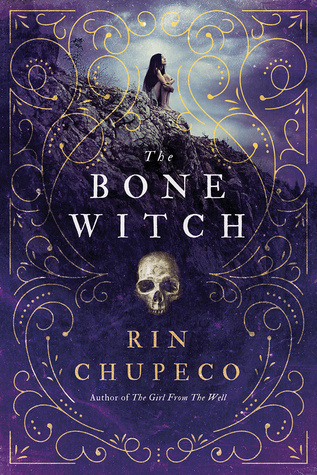 Series: The Bone Witch #1
400 p.
Published: 3/7/17
Publisher: Sourcebooks Fire
Source: From publisher and NetGalley for review
"Let me be clear: I never intended to raise my brother from his grave, though he may claim otherwise. If there's anything I've learned from him in the years since, it's that the dead hide truths as well as the living."
When Tea accidentally resurrects her brother from the dead, she learns she is different from the other witches in her family. Her gift for necromancy means that she's a bone witch, a title that makes her feared and ostracized by her community. But Tea finds solace and guidance with an older, wiser bone witch, who takes Tea and her brother to another land for training.
In her new home, Tea puts all her energy into becoming an asha-one who can wield elemental magic. But dark forces are approaching quickly, and in the face of danger, Tea will have to overcome her obstacles...and make a powerful choice.
My thoughts:
I really enjoyed this author's other work and when I saw the cover for this one I knew I needed to read it. It is as lush in descriptions as her last work, but while that one built atmosphere, sometimes the descriptions here got in the way. I absolutely loved picturing all the gowns (hua) the asha's (magical ones) wore because it was such a part of who they were becoming. It also felt as if it was a complete amalgamation of different cultures, particularly eastern. It was fun exploring the world and what magic she could preform and what was held back in her abilities.
What I thought was a bit weak were Tea's relationships to the other secondary characters. In some ways it worked and they were completely supportive of her character in bringing her to life, but in other ways I thought the relationship should have been more defined. There were a couple of people who were interesting in their own right, felt as if they were going to be built upon but then felt dropped from importance. Now, this may correct itself (and I highly suspect it will) as the series continues, but I would have liked at least one character to have played a more distinctive role in the worldbuilding. Her brother, Fox, was rounded out much better than the others, but there were so many other personalities I wanted to get to know even just a bit better. I think the worldbuilding would have been perfected a bit more with those characters.
I still found the world fascinating and didn't mind the present/past back and forth within the book. To tell it otherwise would have made the book too long. Still, as we are building up in understanding about Tea and her abilities and coming to the climax of what is going on in the "present", the book ends. Thankfully this is part of a series or that would have really upset me.
I give this book 3 stars. I think it has the potential to really take off now that several things have been established. While it had some problems for me, I still found it interesting and compelling enough to want the next book to find out how the ending of this one plays out. I recommend it to those that enjoy YA fantasy with and Eastern bent but do be prepared for the ending. :)