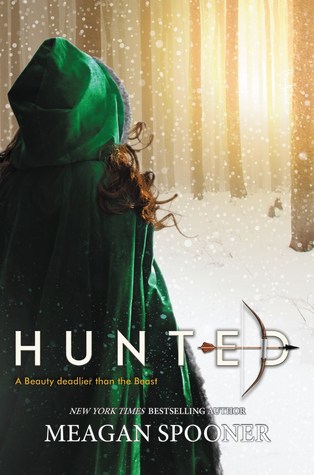 Standalone
352 p.
Publisher: HarperTeen
Published: 3/14/17
Source: From Edelweiss and publisher for review
Beauty knows the Beast's forest in her bones—and in her blood. Though she grew up with the city's highest aristocrats, far from her father's old lodge, she knows that the forest holds secrets and that her father is the only hunter who's ever come close to discovering them.

So when her father loses his fortune and moves Yeva and her sisters back to the outskirts of town, Yeva is secretly relieved. Out in the wilderness, there's no pressure to make idle chatter with vapid baronessas…or to submit to marrying a wealthy gentleman. But Yeva's father's misfortune may have cost him his mind, and when he goes missing in the woods, Yeva sets her sights on one prey: the creature he'd been obsessively tracking just before his disappearance.

Deaf to her sisters' protests, Yeva hunts this strange Beast back into his own territory—a cursed valley, a ruined castle, and a world of creatures that Yeva's only heard about in fairy tales. A world that can bring her ruin or salvation. Who will survive: the Beauty, or the Beast?
My thoughts:
I should probably recuse myself from reviewing this one because I love Beauty and the Beast retellings. I really loved this one, not for the romance (actually there was very little of it until the end) but because it is usually the heroine that is the strong one of the tale. This one holds to that tradition and makes Yeva (aka Beauty) a unusually strong woman who loves to hunt and go out into the wood exploring and finding that fairy tales are real.
The core of this tale is also not the romance. That may put off some readers but the theme is really about want and desire. Do we know what we really want? Do we understand what we really desire? The mythos is based on that premise as well as the tale she finds herself a part of. A tale told to Beauty which became her favorite which she starts to fully understand while living it. That does make for an interesting twist as it also becomes her real mission is to see what is before her and know what she really wants out of life. This is also not one where once you figure it out it is all solved, but knowing human nature and that wanting the next thing will always be around the corner. We can only hope our next want will accompany wisdom as well.
I give this tale 4 1/2 stars and highly recommend it to those, like me, that love a Beauty and the Beast retelling. Do be aware that the romance is minimal until the end but the hero is still the Beauty of the tale.