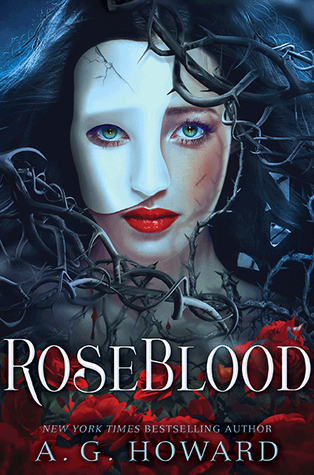 432 p.
Publisher: Amulet Books
Published: 1/10/17
Source: NetGalley and Publisher for review
In this modern day spin on Leroux's gothic tale of unrequited love turned to madness, seventeen-year-old Rune Germain has a mysterious affliction linked to her operatic talent, and a horrifying mistake she's trying to hide. Hoping creative direction will help her, Rune's mother sends her to a French arts conservatory for her senior year, located in an opera house rumored to have ties to The Phantom of the Opera.

At RoseBlood, Rune secretly befriends the masked Thorn—an elusive violinist who not only guides her musical transformation through dreams that seem more real than reality itself, but somehow knows who she is behind her own masks. As the two discover an otherworldly connection and a soul-deep romance blossoms, Thorn's dark agenda comes to light and he's forced to make a deadly choice: lead Rune to her destruction, or face the wrath of the phantom who has haunted the opera house for a century, and is the only father he's ever known.
My thoughts:
A retelling of Phantom of the Opera? A.G. Howard? Um... yes to all please. :) I enjoyed her other retelling of Wonderland so I was pretty sure I would enjoy my time here. I was not wrong.
I really liked how the story of the phantom unfolded and gave me a few twists and turns I did not expect. I did like Rune and Thorn and the idea of twin flames, but the romance felt weak until the end. I think all the secrecy just interfered with me getting to know them as a couple especially when they really spent so little time actually together. What stole the show was a cat and a swan. Both a familiar of sorts to the ones they have chosen to help. Both have a mind of their own and feel they know what is best for their people. If nothing else read it for those characters. I just wish they had more time in the book.
I do think that the paranormal twist in this book may not appeal to some. I didn't mind it and even appreciated it when I read the author's notes. It doesn't quite flow with the characters naturally as you first read it, but upon reflection you can see why the author took that direction.
I give this book 3 1/2 stars. If you like retellings, if you like twists (I really did not see one of them coming) then you need to pick up this book. It was a fun time and I really enjoyed her author notes at the end which tells how she got the idea and some of the history involved. I also understand that the book has some of Christine's (the Phantom's bride) journal entries in it. I wish the ARC had it so I guess there is a book I need to buy. Twist my arm. LOL
Oh and that cover! 💓