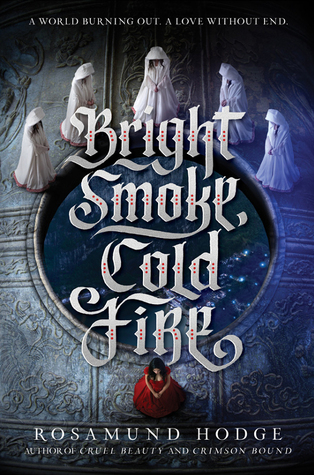 Series: #1
448 p.
Publisher: Balzer + Bray
Published: Sept. 27, 16
Source: Edelweiss and Publisher for review
When the mysterious fog of the Ruining crept over the world, the living died and the dead rose. Only the walled city of Viyara was left untouched.
The heirs of the city's most powerful—and warring—families, Mahyanai Romeo and Juliet Catresou share a love deeper than duty, honor, even life itself. But the magic laid on Juliet at birth compels her to punish the enemies of her clan—and Romeo has just killed her cousin Tybalt. Which means he must die.
Paris Catresou has always wanted to serve his family by guarding Juliet. But when his ward tries to escape her fate, magic goes terribly wrong—killing her and leaving Paris bound to Romeo. If he wants to discover the truth of what happened, Paris must delve deep into the city, ally with his worst enemy . . . and perhaps turn against his own clan.
Mahyanai Runajo just wants to protect her city—but she's the only one who believes it's in peril. In her desperate hunt for information, she accidentally pulls Juliet from the mouth of death—and finds herself bound to the bitter, angry girl. Runajo quickly discovers Juliet might be the one person who can help her recover the secret to saving Viyara.
Both pairs will find friendship where they least expect it. Both will find that Viyara holds more secrets and dangers than anyone ever expected. And outside the walls, death is waiting. . .
My thoughts:
I loved this author's other retellings and seeing the creepy cover I jumped at reading this book. While I did like the dark world she built here and it did engage me, it just fell a bit flat for me. I don't think this will be how everyone will experience this book but, in my case, it happened this way for me. I think that it was because it was a retelling of such an iconic and famous play and I have a feeling I would see it differently if it wasn't a retelling. This usually doesn't bother me and I've read other retellings of Romeo and Juliet and it didn't bother me, but for some reason I think it got in my way here. Perhaps it is because the world is SO different and I would have enjoyed it if it was labeled more as an original story.
This is also a very dark story. VERY dark. In fact there was no HEAs in this book. Now it is possible it may end in an HEA (I believe this is supposed to be a duology) but this book does not give you that happy feeling at the end. In fact the foreboding is for more darkness and pain emotionally and physically.
While this book may not have totally captured me in full, I still have enjoyed it enough and it has made me so curious as to what will happen next. How will they resolve things? How are all the players in this twisted dark play going to come together? Will there be no HEA or a final resolution in the end? While I realize this sounds like it ends in a huge cliffie, it does not, but it does not feel complete. I must know where this story will take me.
I give this book 3 stars. While I didn't love everything about this book the darkness really did capture my attention and curiosity. I really need to know if things will come to the light or wither in darkness.