Oh holiday reads! Both are open to US snail mail addys. Just fill out the rafflecopter for the one you want or enter for both!
Angels in the Snow
by Rexanne Becnel
288 p.
Published: Oct. 27, 15
Publisher: Pocket Books
The USA TODAY bestselling "master of her craft" (RT Book Reviews), Rexanne Becnel delivers a special treat just in time for the holidays with this heartwarming story about a family learning the true meaning of Christmas.
Having it all—money, health, intelligence, the seemingly perfect family—doesn't seem to be working for Charles Montgomery. His wife wants a divorce. His children are spoiled rotten. And he has grown blind to the things money can't buy. In an act of desperation he hopes will bring the family together again, he whisks them away to a mountain retreat for the holidays. But the vacation is a recipe for disaster—especially when a blizzard leaves them stranded without heat or electricity—until the Walker family shows up, seeking shelter. Togetherness has never been so uncomfortable—or enlightening. The blizzard passes, and the Walkers leave…but the Montgomerys' lives will never be the same.
Book links: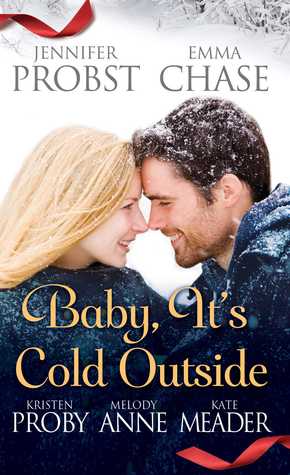 Baby, It's Cold Outside
Anthology
544 p.
Publisher: Pocket Books
Published: 10/28/15
New York Times and USA TODAY bestselling indie authors Jennifer Probst, Emma Chase, Kristen Proby, Melody Anne, and debut author Kate Meader come together to write a sizzling romance anthology.

Outside it may be frosty, so turn the heat way up with these stories of desire!
Searching for You
Can a determined woman executive and a playboy billionaire survive being stranded together in a snowstorm? Jennifer Probst depicts an encounter almost too hot to handle...

It's a Wonderful Tangled Christmas Carol
Drew and Kate play an encore to Tangled in this sexy take on a "Christmas Carol" by Emma Chase. When a Christmas Eve argument condemns Drew to a troubled night, three dream women teach him that no gift could be more tantalizing than Kate...

Saving Grace
With Kristen Proby, ski slopes are quite delightful. Grace Douglas is sure she'll never learn to ski, but instructor Jacob Baxter could teach her lessons of a different kind...

Safe in His Arms
Can a southern California transplant survive Montana's deep snows?Melody Anne, author of the bestselling Andersons series, melts the icy drifts completely away with the heat between sexy Hawk Winchester and brand-new teacher Natalie Duncan...

Rekindle the Flame
What could be hotter than a firefighter? Kate Meader shows how, as Beck Rivera and heiress-turned-tattoo-artist Lucy Cochrane discover, nothing ignites holiday flames like rekindling a lost love...
►
Rekindle the Flame
is the Hot in Chicago series prequel e-novella for $1.99 by Pocket Star EBooks