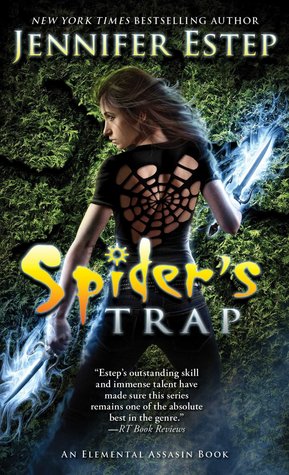 Series: Elemental Assassin #13
400 p.
Publisher: Pocket Books
Published: 7/28/15
Source: From NetGalley and Publisher for review
Keep your friends close but your enemies within stabbing distance.
One important lesson I've learned in the assassination business is that to be the best you have to roll with the punches. Now that I'm queen of Ashland's underworld—by default, not by choice—a lot more punches are being thrown my way. But I suppose that's the price of victory for taking down some of the underworld's top dogs. Good thing I have my Ice and Stone magic to help me survive my volatile new position. Just when I think things are finally settling down, someone tries to murder me during a hush-hush underworld meeting. But the real surprise is how strangely familiar my shadowy assailant seems to be.
My job is to maintain order among killers, crooks, and thieves, and soon I'm embroiled in a bloody game where the ability to keep secrets could be the greatest superpower of all. My enemies have all sharpened their knives and laid their traps, waiting for me to fall. But this Spider weaves her own webs of death…
My thoughts:
Yes! Another great addition to the series. This is one book series that just doesn't get old with me and I always look forward to getting back with the gang.
In this book I loved getting to know another criminal element that has a connection to Gin's past. I also loved how this one panned out. The adventure is complete but you sense something looming in the background. Yes, we have another arc forming that will most likely take place in the background of the series as the books move forward. Oh and this one is a shocker!
I give this book 4 1/2 stars. This book introduces us to characters I sincerely hope will become more important in Gin's life and I'm curious as to how she will continue to operate as the underworld's top boss. I love the transition of her character and I'm looking forward to more!